Edmonds CC names Ozzy Erkut new soccer coach
03/05/15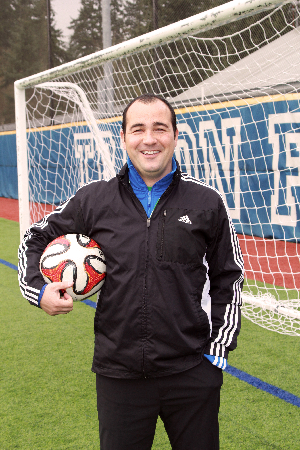 Edmonds College announced the hiring of Oguzhan "Ozzy" Erkut as head coach for men's soccer on Feb. 9.
"I am thrilled to have Ozzy on board as our new soccer coach," commented athletic director Jorge de la Torre. "He has experience in the NWAC as both a player and as a coach and his background also includes time as a professional player and coaching experience at the four-year university level."
Erkut will succeed Brandon Mitalas who coached the team for six years and led the Triton program to three out of the last four Northwest Athletic Conference (NWAC) north region title wins and reached the NWAC semi-finals in 2014.
"Edmonds CC is a very established soccer program," said Erkut. "I have met some of the other coaches here at Edmonds CC and they have been very welcoming and supportive. I am privileged to be here."
Erkut comes with several years of coaching experience, including time as an assistant coach at Bellevue College; senior coach for Arsenal FC Soccer Schools and Hawaii; Men's Assistant Coach for NCAA Division II Chaminade University (Hawaii), and Manchester United Soccer Schools.
"I am looking forward to raising our standards on and off the field," said Erkut. "It is like a marathon— finishing strong is important to me. It is important to perform well on and off the field."
His impressive playing background consists of two seasons at Bellevue College where the team reached the NWAC quarterfinals in 2006. He played for his native country Turkey, professionally for Bursa Merinos FC, third division professional team and grew up playing youth academy programs of Bursaspor FC Turkish, first division professional team, and a regional select player for the Turkish national team.
"My passion for soccer came from my father who played professionally for Galatasaray FC and the Turkish National team," said Erkut.
Erkut was born in Bursa, Turkey and moved to the U.S. in 2004. He earned a master's degree in business, specializing in international business, from Hawaii Pacific University, a bachelor of science degree from Uludag University (Bursa, Turkey), an associate of arts degree from Sakarya University (Sakarya, Turkey) and he holds a Union of European Football Association (UEFA) B license from England. He earned the Academic Leadership Award from NWAC and was a member of Phi Theta Kappa International Honor Society.
"Ozzy really emphasized the importance of academics in the interview process," said de la Torre. Ozzy was an all-academic performer during his time in the NWAC and wants to develop young men who are not only terrific soccer players, but who will use their time at Edmonds CC wisely and either transfer to a four-year institution or earn a degree here."
TOP