Edmonds CC Foundation's 29th annual gala auction to benefit students is April 25
03/27/15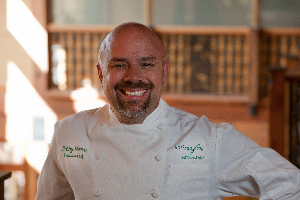 Chef Bobby Moore
The Edmonds College Foundation's 29th annual fundraising auction and gala dinner will feature celebrity guest chef Bobby Moore, Executive Chef of the Barking Frog at Willows Lodge. Chef Moore will oversee the gala event's dinner menu and work with students in the college's highly-regarded culinary arts program.
"We are honored to have Chef Bobby Moore on board preparing an amazing dinner menu and working with our students in preparing an extraordinary four-course dinner," said Brad Thomas, Executive Director for the Edmonds CC Foundation.
Edmonds CC students preparing for careers as cooks, kitchen managers, bakers, pastry chefs, and other jobs in the food service industry will benefit from the experience and the interaction with Moore as they help prepare and serve the meals to auction attendees.
"Having a culinary artist at the highest level like Chef Moore affirms once again that our auction attendees, donors, sponsors, volunteers, and culinary students will be part of a truly special evening," said Thomas.
The Foundation's "Star-Gazing Soirée" dinner and auction will be April 25 at the college in Woodway Hall. The auctioneer will be renowned comedian/actress, Michelle Westford.
In addition to a unique dinner, participants at the auction can bid on a variety of one-of-a-kind items, such as vintage wines, dinner at the prestigious Canlis restaurant in Seattle, private chef dinners, and a week in Cabo San Lucas. Many additional items and experiences have been donated by local businesses and other gala supporters.
Last year's dinner and auction raised more than $190,000 in support of access, success, and excellence for students, faculty, and staff at the college. The Foundation awards more than 172 scholarships each year to help area students succeed. In 2014, the Foundation awarded more than $390,000 in critical support for student success.
"The event will be another star-studded night and I hope community members join us to help impact the lives of those students of all ages who need our help. Any support greatly helps the foundation in reaching its goal of $200,000 to support students, faculty, and staff at Edmonds CC," said Thomas. The event is expected to sell out.
The auction committee is looking for donations of weekend getaways, wines from personal collections, group dining events, experience gifts, home and vehicle services, and other quality items.
For more information or to reserve your spot, go to www.edmonds.edu/foundation. There are still one or two auction sponsorship and table sponsorship opportunities remaining. Become a sponsor at www.edmonds.edu/foundation or contact Julie Colgan at 425.640.1514 or julie.colgan@edmonds.edu. Edmonds CC Foundation thanks you for your support!
About Chef Bobby Moore
In April 2005, Bobby Moore was named executive chef of the Barking Frog at Willows Lodge, one of the Northwest's most romantic resorts located in the heart of Woodinville Wine Country just a few miles from Seattle. Chef Moore graduated from Seattle Central's Culinary program in 1997; shortly following he became sous chef at Fullers in Seattle. Chef Moore has been with the Barking Frog since 2001. In 2007, Moore won FareStart's Guest Chef on the Waterfront award. Moore was invited to cook at the prestigious James Beard House in May 2008 and in December 2014, where he showcased the freshest cuisine from the Pacific Northwest.
TOP