Dream big at Edmonds CC's open house May 6
04/15/15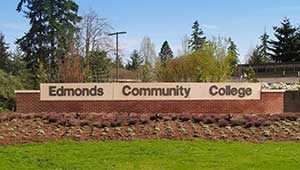 Edmonds College is hosting an open house, 4-7 p.m., May 6 at the Triton Student Center in Brier Hall, 20000 68th Ave. W, Lynnwood.
Campus tours will leave the Triton Student Center every ten minutes. On the tour, prospective students will have the opportunity to participate in interactive presentations from instructors in various programs of study such as culinary arts, music, hospitality and tourism, robotics and electronics, among many others.
Prospective students will also learn about: university transfer degrees, job training and career programs, on-campus housing, and resources to help them be a successful student.
Following the tour, enter to win a door prize package including an iPod Shuffle and more. Refreshments will be served.
The college provides educational opportunities in our community including: more than 40 professional/technical programs in connection with local employers; two-year degrees for bachelor degree seeking transfer students (with a choice of classes in more than 30 fields in social sciences, mathematics, humanities, and science); and adult basic education programs.
Use this opportunity to cultivate a new interest or learn how to pursue a life-long passion, and hear from faculty about the rewarding careers that are possible with an education from Edmonds CC.
The college has also had a long-standing partnership, since 1975, with Central Washington University to provide students the opportunity to earn a bachelor's degree close to home. Snoqualmie Hall, a shared building with CWU-Lynnwood on the Edmonds CC campus, opened in 2002.
Also on May 6, there will be a:
Housing BBQ and Tour, 4-7 p.m., May 6, Triton Student Center, Brier Hall
There will be an opportunity to tour Rainier Place, the college's on campus residence hall. During the housing tour, prospective students will learn about housing options while attending Edmonds CC or CWU-Lynnwood, and meet staff and current residents.
Food and refreshments will also be served at the housing tour. For more information, call 425.640.1080 or email housing@edmonds.edu.
For directions to campus, go to www.edmonds.edu/campus.
TOP