Community supports student success at Edmonds CC Foundation auction
05/21/15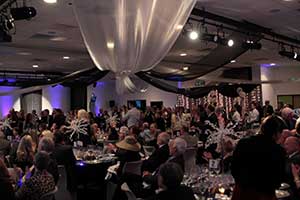 2015 Foundation Auction "Star-Gazing Soirée"
The Edmonds College Foundation auction in April raised more than $205,000 in support of access, success, and excellence for students, faculty, and staff at the college.
"We are continually amazed by the generosity of our guests, donors and sponsors that support our efforts to transform the lives of our students here at Edmonds College," said Brad Thomas, Edmonds CC Foundation Executive Director.
"Our community continues to partner with us in providing dedicated volunteer leaders who procure auction items, sponsor tables, and give of their time, talent and treasure to improve the lives of our students through scholarships, grants, awards and emergency funding."
Over 220 people attended the auction. Chef Bobby Moore from the Barking Frog created the menu, which was prepared and served by students and instructors from the college's Culinary Arts department.
Auction items included: high-caliber wines, Northwest travel packages, and fine dining. Highlights were: a handmade garden bench, a party for 40 at the new Scratch Distillery by the waterfront, and a pastry party for 12.
Many local businesses supported the auction, including the presenting sponsors, Premera Blue Cross and The Boeing Company. Corporate sponsors included: Comprehensive Wealth Management, Swedish Hospital of Edmonds, Heritage Bank, Edmonds Center for the Arts, Schacht Aslani Architects, AFORA, Lynnwood Honda, Karr Tuttle, Campbell, Molina Health Care, Harbor Square Athletic Club, Beresford Booth Law Firm, and Team Jean Sittauer.
Auction items were donated by local businesses: Arista Wine Cellars, American Brewing Company, Rory's of Edmonds, Kays Creations, Salt and Iron, Garden Gate Gifts, Edmonds Bookshop, The Wooden Spoon Kitchen Shop, Cline Jewelers, Glazed & Amazed, A Very Taki Tiki Bar & Grill, Segway of Edmonds, J. Rankin Jewellers, PCC Market, Quietude Massage Therapy, Phoenix Theatre, and Gallagher's You Brew.
During the 2014-15 school year, the Foundation disbursed $265,000 in scholarships and emergency funds to students and contributed $295,000 in direct support to college programs. For more information about the Foundation, call 425.640.1274, email foundation@edmonds.edu or go to www.edmonds.edu/foundation.
TOP