Edmonds CC's Center for Families celebrates the Week of the Young Child™ with their 10th annual ladybug release joined by Lynnwood Mayor Nicola Smith
05/26/15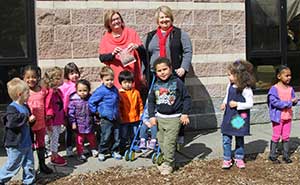 From left, Lynnwood Mayor Nicola Smith and Lisa Neumann, Edmonds CC Center for Families Director at the 10th annual ladybug release.
The Center for Families (CFF) at Edmonds College celebrated the Week of the Young Child™ (April 12-18), by participating in different events and activities throughout the month of April. The Week of the Young Child is sponsored by the National Association for the Education of Young Children (NAEYC).
One event is the CFF 10th annual ladybug release, held every Earth Day.
"This event is good for the earth and connects the children with learning experiences in the classroom," said Lisa Neumann, Edmonds CC CFF Director. "It is safe for the children and they really enjoy it."
This year, the CFF got a real treat when Lynnwood Mayor Nicola Smith came to release the ladybugs with the children.
"Connecting young children to nature is very important and freeing ladybugs is truly a hands-on way for children to learn about the importance of nature," said Mayor Smith.
In addition, on April 27, Mayor Smith made a proclamation at the Lynnwood City Council meeting, declaring it the Week of the Young Child for the City of Lynnwood.
Washington State House of Representatives, Ruth Kagi was in attendance. Neumann was present to receive the proclamation, accompanied by Dan Johnson, Edmonds CC Dean of Student Life, and Jennifer Cole, Edmonds CC CFF Associate Director of Child Care.
Edmonds CC's CFF provides childcare for children ranging in ages from infants to five-year-olds, providing them a great start while parents get the education they need to continue to provide for their families. The CFF also serves as a training facility to model best practices in childcare and parenting and educates students who are learning to become early childhood educators.
"Center for Families was modeled and built to be a best-practice early childhood learning center for Snohomish County and it has been true to that vision by being a constant site for families to get quality childcare and education while serving the community as a regional model," said Mayor Smith.
"I'm very proud to have been a part of the creation of the center and I remain a strong advocate for the important work they do in building a strong community."
Prior to serving as the mayor for Lynnwood, Mayor Smith was the Dean of Student Life and Development at Edmonds CC. Mayor Smith was at Edmonds CC since 1987.
The NAEYC is the world's largest organization working on behalf of young children. According to the NAEYC website, the purpose of the Week of the Young Child™ is to focus public attention on the needs of young children and their families and to recognize the early childhood programs and services that meet those needs.
TOP