Edmonds CC Foundation hosts second annual Fanfare event to recognize significant contributors in the community
06/09/15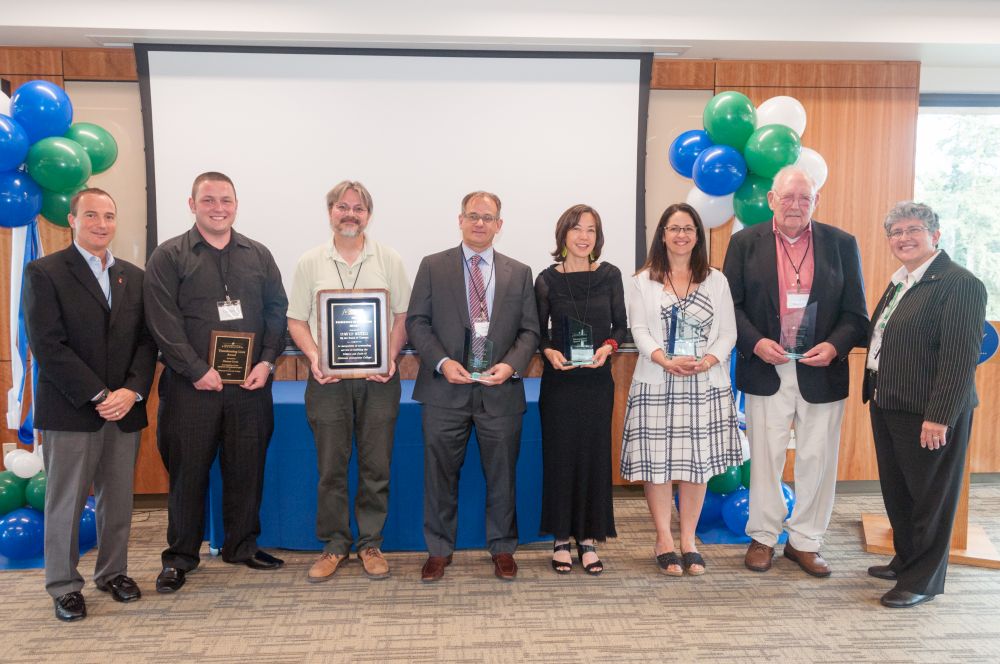 From left: Ken Chandler, Chester Curtis, David Breed, Fred Langer, Lisa Bauer, Meg Rankin, Vaughn Sherman, and Edmonds CC President, Jean Hernandez.
The Edmonds College Foundation hosted Fanfare — an annual event to celebrate achievements and distinctive contributions to the college on May 21 on campus.
"The college makes it a priority to recognize businesses, organizations, and alumni that contribute to and support our community," said Edmonds CC President Jean Hernandez.
The college's highest awards — Mission, Vision, Cornerstone, Distinguished Alumni, and Excellence in Education were presented to foundation donors, a distinguished alumna, and a college employee.
The Mission Award — aimed at recognizing a business or organization that has dedicated financial, volunteer, and other support to the college — was given to J. Rankin Jewelers of Edmonds. Owners Meg and John Rankin live in Edmonds and are very involved in making Edmonds a better place to live and work. They are generous with their time and gifts. Meg has served on the Foundation Board for seven years and on the Auction committee for eight years. Meg has also been the Chairperson for the auction four different years. Most recently, she accepted the position of Secretary for the Edmonds CC Foundation Board.
Verdant Health Commission was honored with the Vision Award. Fred Langer, the Commissioner and President of the Board of Verdant Health Commission was present to accept the award. Verdant Health Commission was a lead contributor to the Edmonds CC Boots to Books and Beyond Veterans Campaign and their funds are providing a Mental Health Counselor in support of our college's 240 veterans and their families at the college's new Veteran Resource Center. Verdant Health Commission also was instrumental in establishing the college's Health and Wellness Center.
The Cornerstone Award honors individuals and organizations that have dedicated significant time, expertise, and financial support to ensure the success of the college. This award was given to Vaughn Sherman for his continuous contributions to the college. Sherman served on the College's Board of Trustees from 1981 to 1996 and as a chair of the Foundation Board from 1999 to 2003. Additionally, Sherman has served as the Chair of the Legislative Committee and has been a member of the Finance, Annual Giving and Planned Giving Committees. Sherman chaired the Trustee Board, the State Trustee Association and the National Trustee Association. Lastly, Sherman donated the funds to create the Echelbarger- Sherman Faculty awards. Sherman is the author of three books, including a book about how to be an effective Community College trustee. In 2012, Sherman and his wife started their own publishing company, Patos Island Press.
Lisa Bauer, owner of Chartreuse Landscape Design and Edmonds CC Horticulture alumna, was recognized with the Distinguished Alumni Award. Bauer's knowledge of plants expanded during her time at Edmonds CC, where she initially did not intend to obtain her degree.
Bauer signed up for a drafting class with the horticulture department and was immediately hooked. She then took a plant identification course.
"I fell in love with big trees and plants after those classes," said Bauer. "Education opened up a new world for me."
Bauer earned her Associate of Technical Arts degree in Landscape Design and a certificate in Ornamental Horticulture from Edmonds CC. Bauer was one of three designers to win the Founders Cup (best in show) and a gold medal for their display garden at the Northwest Flower and Garden (NWFG) show this year.
David Breed,High School Completion instructor, was presented with the Excellence in Education Award — a prestigious recognition awarded annually by the college's Board of Trustees to an outstanding college employee. Breed, an instructor for more than 15 years at the college, works with underage and at-risk population of students, has authored and co-authored at least three textbooks and an e-book for the Pre-College environmental science class, created math videos that help students review major concepts, has spent countless hours holding extra tutoring sessions, and is constantly working to improve processes and curriculum.
The college also recognized Chester Curtis for receiving the Transforming Lives Award given by the Trustees Association of Community and Technical Colleges.
TOP