Host an international student and experience another culture
11/2/15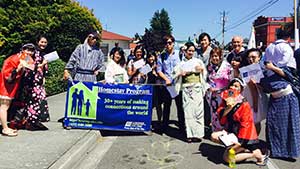 International students enjoying the Edmonds 4th of July Parade
Imagine experiencing another culture and still continuing your own life at home. The Homestay program provides the opportunity to learn about another culture while making an impact on someone's life by being a host family for an international student.
Homestay has been bringing people together from around the world for more than 30 years. Edmonds College and Shoreline Community College students are eager to learn about America and share their experiences with you.
"My life has been so enriched and I am learning about the world. It has opened my horizons, and it has really benefited my children," said Paul Kappus, Edmonds CC Homestay Recruiter. "We've developed so many close family relationships with people all over the world."
Kappus and his family have been hosting international students for over 20 years and he can't imagine not doing it.
The basic requirements for hosting an international student are:
Private room with bed, desk, chair, dresser, closet, window, and door lock;

Safe neighborhood within 45 minutes of the school by public transit;

English speaker (bilingual households are ok); and

Complete a host family orientation, application forms, and home visit.
Become a host family and you'll be able to:
Create friendships that last a lifetime in addition to meeting a community of like-minded host families;

Help international students make new friends and improve their English skills as they experience life in America;

Receive a monthly cash stipend provided through the housing office to cover your expenses;

Get matched with a student based on your family and student preferences by the housing staff that share knowledge from other family's experiences; and

Receive ongoing support and a policy for conduct by the housing staff.
The typical length of time to host an international student is ten months. Host families are expected to provide at least five hot meals a week. The average age of the students is 19-20.
To attend a monthly family orientation meeting or to learn more:
www.edmonds.edu/housing/homestay-families
TOP