Edmonds CC to celebrate International Education Week Nov. 17-20
11/10/15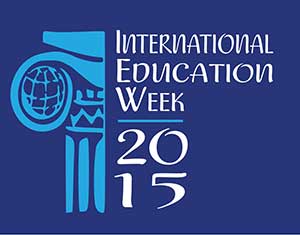 Edmonds College celebrates International Education Week with a series of cultural activities Nov. 17-20 that are free, unless otherwise noted, and open to the public.
International Education Week, an initiative from the U.S. State and Education departments, is part of an effort to promote international understanding and build support for international educational exchange.
All week, the Edmonds CC bookstore will offer specials focusing on international education and the Brier Grill will serve international cuisine.
The main events include:
International Education Week Kick Off | 11:30 a.m.-1:30 p.m., Tue., Nov. 17 | Brier Hall Lobby
This opening event includes exciting international trivia and a scavenger hunt around campus.


Multicultural Fair | 11 a.m.-1 p.m., Wed., Nov. 18 | Brier Hall Lobby
This showcase highlights and celebrates the array of diverse cultures represented at Edmonds CC.


Culture Expo: Hall of Heroes | 1-2 p.m., Wed., Nov. 18 | Black Box Theatre
International students will display interactive exhibits to showcase cultural facts from their countries around the concept of a hero.


Screening of "Big Hero 6" | 2-4 p.m., Wed., Nov. 18 | Black Box Theatre
The critically acclaimed animated film reflects on international exchange, the future of globalism, and how normal people can transform into heroes. Informal discussion to follow.


Global Leadership Summit and Education Abroad | 12:30-2 p.m., Thurs., Nov. 19 | Black Box Theatre
Learn about the opportunities through the Global Leadership Summit for international leadership from Edmonds CC students, staff, and faculty who attended the summit in South Africa earlier this year. Information about the Edmonds CC study abroad program will also be discussed.


Club Caja Salsa and Dance Concert | 7 p.m., Fri., Nov. 20 | Black Box Theatre | $5 admission
The week concludes with a night of dancing to the music of the Edmonds CC Salsa Band. No salsa experience? No problem. There will be dancing lessons starting at 7 p.m.

For more information regarding this event, visit facebook.com/IEWEdmonds/ or contact Jesse Aspree, assistant director, global engagement, International Student Services at 425.640.1037. For directions to campus and to download a campus map, visit www.edmonds.edu/campus.
TOP