Edmonds CC names Tony Miranda new volleyball head coach
12/30/15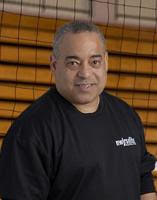 Tony Miranda
Edmonds College announced the hiring of Tony Miranda as its volleyball head coach on Dec. 21.
"It's time for Edmonds CC volleyball to start winning again," said Edmonds CC Athletic Director Jorge de la Torre. "Coach Miranda brings in a ton of experience at the collegiate and club level. I am confident that he is going to quickly turn this program around and take us back to NWACs."
Miranda has 25 years of impressive coaching experience and returns to Edmonds CC where he coached the Tritons for five seasons — as an assistant from 2005-06 and as head coach from 2007-09.
In 2008, he guided Edmonds to the NWAC North Region regular season title and a third-place finish at the NWAC tournament.
Miranda also coached at Bellevue College for four seasons from 2001-04, leading the Bulldogs to the NWAC tournament each year, including a third-place showing in 2002. He was named the NWAC North Coach of the Year in both 2001 and 2002 and was selected as the NWAC Coach of the Year in 2002.
Miranda's coaching experience includes stops as an assistant at Seattle Pacific University and Highline College, as well as stints as the head coach at Holy Names Academy, Foster High School, and Inglemoor High School. In addition, Miranda is the director of the Northwest Volleyball Foundation and was the Junior Program Director, for the Puget Sound Region, of USA Volleyball.
"I am thankful to Jorge de la Torre for having the confidence in me and for giving me this great opportunity to return to Edmonds," said Miranda. "I am excited for the challenge. I am ready to get to work and look forward getting back in the gym and bringing this program back among the top programs in the NWAC."
Learn more about Edmonds CC Athletics and follow them on Facebook and Twitter.
TOP