Ahmad Hilal Abid named Coca-Cola Academic Team Bronze Scholar
03/09/23
Ahmad Hilal Abid, a student at Edmonds College, has been named a 2023 Coca-Cola Academic Team Bronze Scholar and will receive a $1,000 scholarship.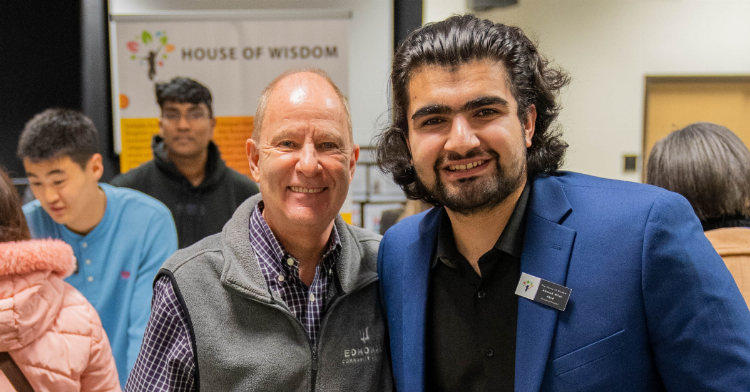 Ahmad Hilal Abid (right) and Wayne Anthony, the Center for Student Engagement and Leadership director at Edmonds College, pose during a recent refugee and immigrant resource fair on campus.
The Coca-Cola Scholars Foundation sponsors the Coca-Cola Academic Team program by recognizing 50 Gold, 50 Silver, and 50 Bronze Scholars with nearly $200,000 in scholarships annually. Selection as a Coca-Cola Bronze Scholar was based on scores students earned in the All-USA Academic Team competition, and this year, there were more than 2,400 applications received. Each scholar also receives a commemorative medallion.

"The Coca-Cola Scholars Foundation has a long history of providing financial assistance to outstanding students at community colleges," said Jane Hale Hopkins, president of the Coca-Cola Scholars Foundation. "We are proud to partner with Phi Theta Kappa to make it possible for more deserving students to achieve their educational goals and support tomorrow's leaders of the global community."

Abid, who emigrated from Afghanistan to the U.S. when he was 17 years old, is passionate about volunteering and has dedicated much of his free time to making a difference on campus and in the community. In 2020, he started a small class in his garage to help 20 immigrant and refugee students with school assignments in math and English. The growing popularity of his services eventually led him to move to a larger space in a professional building in Lynnwood, Wash. Now, Abid has twice as many students and offers a wider array of tutoring subjects, thanks to a volunteer staff with diverse areas of expertise.

Additionally, he has spent time with Volunteers of America and Medical Teams International plus held numerous leadership roles on campus. He has volunteered with the Edmonds College Green Team, spent time as a campus event programmer, and is on the Executive Board of the Associated Students of Edmonds College in charge of diversity.

Abid earned his Associate in Arts in June 2022 and is currently enrolled in the paralegal program at Edmonds College. He aims to transfer to Harvard, where he wants to earn a bachelor's degree and attend law school.

Students are nominated for the academic team by their college administrators. Selection is based on academic achievement, leadership, and engagement in college and community service.

Coca-Cola Academic Team members will be recognized in both local and statewide ceremonies and will also be recognized internationally during Phi Theta Kappa's annual convention, PTK Catalyst, to be held in Columbus, Ohio, April 20-22.

"We thank the Coca-Cola Scholars Foundation for recognizing these student leaders and for investing in their futures," said Dr. Lynn Tincher-Ladner, President and CEO of Phi Theta Kappa. "Scholarships like these are integral to the success of these students in reaching their educational and career goals."

#

About the Coca-Cola Scholars Foundation
The Coca-Cola Scholars Foundation celebrates and empowers visionary leaders who are refreshing the world. Supporting more than 1,400 exceptional college students each year, it awards $3.55 million in scholarships annually through three nationally recognized programs. Learn more at coca-colascholarsfoundation.org.

About Phi Theta Kappa
Phi Theta Kappa is the premier honor society recognizing the academic achievement of students at associate degree-granting colleges and helping them to grow as scholars and leaders. The Society is made up of more than 3.8 million members and nearly 1,300 chapters in 11 countries, with approximately 240,000 active members in the nation's colleges. Learn more at ptk.org
Media Contact Info
Brian Tom
brian.tom@edmonds.edu
TOP