Green classes for green careers this spring
03/17/2009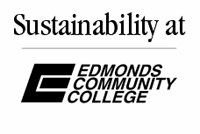 Edmonds College offers classes and degrees that teach environmentally, economically, and socially sustainable practices. We're preparing students for the emerging sector of green-collar jobs.
Registration for spring classes at Edmonds College is underway. Classes start April 6.
Spring classes with a sustainability focus include:
Sustainable Development — Geography 150: Online. Learn about issues in sustainability around the world. How can we efficiently use natural resources today while at the same time preserve it for future generations?
Construction Industry Training 155 — Green Building Decisions: Learn to navigate the maze of choices about constructing greener buildings. We will work up a list of underlying green principles, set up a decision matrix and then assess both specific and entire building choices. Examine rating systems like LEEDS and Built Green.
English 105 K — Analytic Writing: Earn your English requirement by reading natural history essays, writing about local sustainability topics, attending Earth Month events, and doing service learning with Eco Encore and a local non-profit environmental organization.
Environmental Science 100 — Environmental Science: A combination of information from biology, chemistry, physics, and geology that stresses a scientific approach toward understanding the nature and scope of current environmental issues.
Anthropology 101 — Human Ecology I: Help tribes, governments, and nonprofits make fishing, farming, and forestry more sustainable while studying relationships between people and ecosystems. Carpool to and from field sites. This is part of the LEAF School.
Get Your Hands Dirty and Your Feet Wet LEAF School (Human Ecology classes): Join the Learn and Serve Environmental Anthropology Field (LEAF) school and earn college credit for hands-on work restoring native habitat. Register for Human Ecology classes, Anthropology 101, 102, or 103. Scholarships available. Call 425.640.1076.
Two choices to earn a green degree:
Work for a Greener World
Restoration Horticulture degree: This unique two-year degree will train students to help restore damaged land, habitat, and ecosystems in a range of rural, suburban, and urban environments. Learn to replant natural areas with native plants and how to create green spaces in urban settings using green roofs and bioswales. Horticulture classes include: Pacific Northwest Land and Water Issues, Urban Forestry, and Native Plants in the Landscape. Sustainable Development, Geography 150, and Human Ecology, Anthropology 101, classes also count toward this degree. Call 425.640.1739 or email horticulture@edmonds.edu.
Occupational Safety and Health degree
Graduates of this degree prevent harm to workers, property, the environment, and the general public by identifying hazardous conditions and practices and implementing alternative practices and/or corrective measures. Call 425.640.1316 or email osh@edmonds.edu.
Find out more
Committed to thinking, teaching, and living green: the Sustainability Initiative
TOP