Working Together
Dear Triton Community,
At Edmonds College, we are committed to student success for all and having a diverse, equitable, and inclusive campus community. As an institution, we are intentionally working to create an educational environment that embodies institutional transformation while actively advancing success for all students.
We endorse the State Board of Community and Technical Colleges (SBCTC) Equity/Diversity vision statement that calls for us to lead with racial equity to "maximize student potential and transform lives with a culture of belonging that advances racial, social, and economic justice in service to our diverse communities."
As we move forward on this equity journey that includes our commitment to becoming an anti-racist institution, we acknowledge that as a community, we must come together to provide comprehensive learning opportunities, inclusive strategies and services that support our students' educational goals, career aspirations, and success.
---
Diversity, Equity and Inclusion (DEI) and Antiracism Campus Climate survey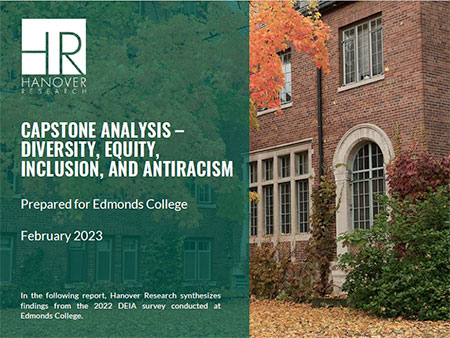 In Spring 2022, our faculty, staff, and students were invited to complete the Diversity, Equity and Inclusion (DEI) and Antiracism Campus Climate survey. This survey is a foundational part of the new Washington State law, Higher Education - Diversity, Equity, Inclusion and Antiracism Training and Assessment, also known as SB 5227. This is the law that requires higher education institutions to implement a campus climate assessment to "understand the current state of diversity, equity, inclusion in the learning, working, and living environment on campus for students."

We partnered with Hanover Research and obtained feedback from members of the campus community in order to develop the survey, which explored our faculty, staff, and students' perspective of our current DEI and anti-racism efforts.
---
Contact Information
Dr. Yvonne Terrell-Powell
Vice President for Equity, Inclusion and Belonging Division
yvonne.terrellpowell@edmonds.edu | 425.640.1456
---
Kristin Prasanna
Executive Assistant to the Vice President
kristin.prasanna@edmonds.edu | 425.640.1340
---
Related links
TOP