Rainier Place opens this fall: grand opening event Oct. 16
08/27/2009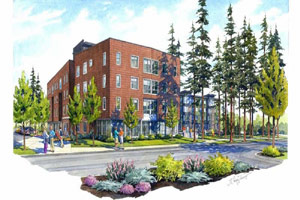 Rainier Place at Edmonds CC
Live on campus! Student housing at Rainier Place opens this fall. A grand opening event at the new building will be 2:30 p.m., Fri., Oct. 16.
"We are thrilled to be one of the few community colleges in the state to provide our students with on campus student apartments, something that most people attending community colleges don't have the opportunity to experience," says Luke Botzheim, Housing Director at Edmonds College.
"Not only will this be a great addition for local students, it will also provide a safe and exciting community for our diverse group of international students." The next closest community colleges that offer on-campus student housing are Green River Community College in Auburn and Skagit Valley College in Mount Vernon.
Rainier Place will be developed by Lorig, a local development company with expertise in student housing, including University of Washington's Nordheim Court, Radford Court and Commodore Duchess Apartments. Rainier Place will be managed by Lorig Management Service (LMS), the management arm of Lorig and a local leader in the management of student housing.
LMS will be responsible for running the daily operations and will handle the leasing of the building, rent collection and student issues in coordination with Edmonds College's Residential Life program.
The Edmonds College Housing Office will be located in Rainier Place, to provide students with a broad range of academic and residential support services, broadening the cultural and community experience at Edmonds College.
"We are really looking forward to utilizing our collegiate management experience and applying it to Edmonds College's Rainier Place," says LMS's Heidi Turner. "We currently manage four university housing projects in the area and we know how to work with colleges and students alike."
Lorig is developing Rainier Place in cooperation with The National Development Council, a non-profit development organization. The architect for the project is Mithun and the contractor is W. G. Clark.
About Rainier Place: Rainier Place will be four-stories tall and will provide housing for 180 students in fully furnished apartments each with kitchens, bathrooms, cable TV and wireless Internet access. The apartment building will include 37 four-bedroom units, nine two-bedroom units and nine studio units with the option for five to be double occupancy. Each floor will have common study space and the first floor will include a community room for social and community events. It opens on campus in fall 2009.
Features
* 37 four-bedroom units
* Nine two-bedroom units
* Nine studio units (five with a double option)
* Common space on each floor
* Community room on first floor
* Resident Assistants – for support
* Internet access
* Phone access
* Pool table, DVD, and large screen TV
Student Benefits of Living on Campus
* A safe and clean living environment
* Ready to use Internet in each room
* Close to college resources (the library, Learning Support Center, student center)
* Fully furnished apartments with private bedrooms and communal kitchens
* Chance to live with a friend or meet new roommates from around the world
Find out more
TOP