HOUSING AND RESIDENCE LIFE
CONVENIENT LIVING & LEARNING COMMUNITY!
Accommodations - Our priority is to provide you with a safe and clean living environment.
Community Building - We are committed to building a strong community and living experience.
Learning - We provide experiences and resources that give you an environment that nurtures academic achievement.
Development - We engage you in the areas of personal wellness, integrity, and social relationships.
Global Inclusiveness - We celebrate understanding diversity and intercultural connection.
Residence Halls
Living on campus provides students with many unique opportunities to develop friendships, engage in student-led activities, and grow academically and personally while being supported by Edmonds College Housing staff and campus resources.
Please visit our Residence Halls page for more information about policies and recommendations for living on campus.
Homestay
You will create friendships that last a lifetime if you participate in Homestay. Living with a family, you can make new friends and improve your English skills as you experience family life in America.
More information about the Homestay can be found here:
Get Involved!
Ways to get Involved in Housing and Residence Life
Housing Events
Throughout the school year, we host several events for our Residence Halls and Homestay students aimed to help create a sense of community among our students.
Fall Kick-Off
During our fall arrivals and orientation week, the resident assistants (RAs) in our residence halls host events to help you make new friends and meet the other students living in Housing.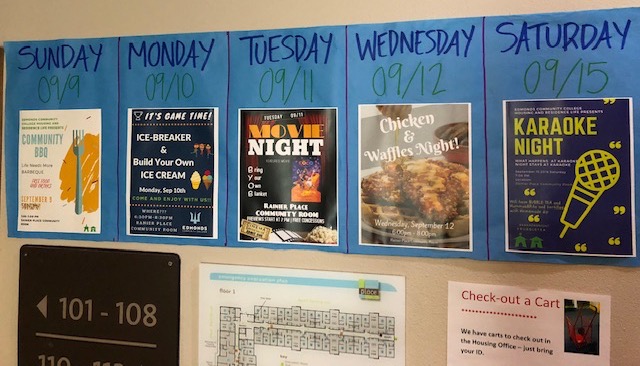 Safe Halls/Haunted Garage
Every Halloween, our Rainier Place Residence Hall opens to the public for families to visit and have a safe place to trick-or-treat. Families go through each of the four floors of the building, get candy and participate in fun activities for all ages. The RAs also put on a Haunted Garage event in the parking garage of Triton Court.
PAWs Community Service
Every school year, our Housing Ambassador Team volunteers at the PAWs animal shelter. To join our Housing Ambassador team and Project Home Club, visit their page.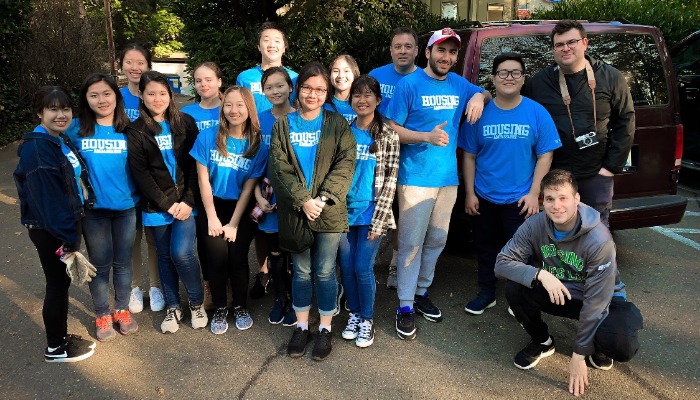 Spring Send-Off
Our spring send-off event is a community BBQ with carnival games, an open field, and an open gym for you to enjoy with your friends.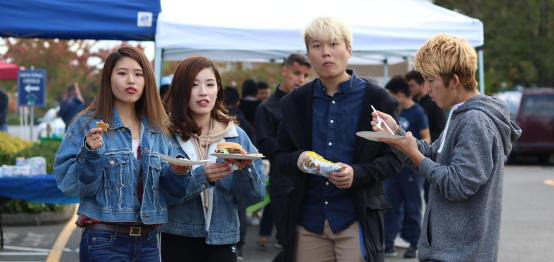 Contact the Housing Office
425.640.1080 | housing@edmonds.edu

Office: Rainier Place Residence Hall, 19920 68th Avenue West, Lynnwood, WA 98036

Mailing address: Attn: Housing Office, 20000 68th Avenue West, Lynnwood, WA 98036
Resident Assistants: (RAs) are Edmonds College students hired by the Housing Office to live in the residence halls and assist other students. One RA is always on call when the Housing office is not open.
International Mentors: (IMs) are Edmonds College Students that help support all international students living in our Homestay Program. IMs are essential in extending the college's mission and values to our international Homestay students to keep them connected to campus and help foster their success.
Please visit the Contact Us page for more information about our staff.
TOP