*** Broken a:14837 z-www-old: News Heading ***
Begin a Restoration Horticulture degree this winter
12/10/2009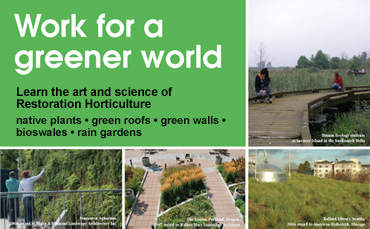 Edmonds College offers a unique two-year degree in Restoration Horticulture that will train students to help restore damaged land, habitat, and ecosystems in a range of rural, suburban, and urban environments.
Start the degree this winter with these classes: Sustainable Development, Geology 150 online and Human Ecology, Anthropology 201.
Restoration horticulture techniques include replanting natural areas, stewarding native plant communities, and creating green spaces in urban settings using green roofs, green walls, and bioswales (drainage troughs that filter runoff water).
The demand for qualified workers in the emerging field of restoration horticulture is expected to grow. Restoration horticulture specialists may find jobs as project managers, technicians, or consultants in government agencies or private businesses such as landscaping or environmental services firms.
Washington State employment projections (www.workforceexplorer.com) indicate that 2,000 jobs using restoration horticulture skills will be needed over the next 10 years.
Learn the skills. Start this winter by enrolling in:
Sustainable Development, Geography 150, an online class that introduces sustainability issues in a global geographic framework. Discuss policy alternatives for the sustainability of resources, the environment, and society.
Human Ecology, Anthropology 201, 8 a.m.-5 p.m., Fridays. Help tribes, governments and non-profits make fishing, farming and forestry more sustainable while studying relationships between people and ecosystems. Transportation provided.
Winter classes start Jan. 4 and run through March 19.
For more information about the Restoration Horticulture degree, call 425.640.1739 or email horticulture@edmonds.edu.
The new Restoration Horticulture degree is part of the college's sustainability efforts, which include development of curriculum to teach environmentally, economically, and socially sustainable practices.
TOP