Eva Smith earns data management achievement award
02/26/2009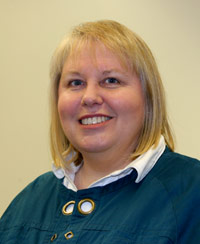 Edmonds CC instructor Eva Smith
Edmonds College Database Information Technology instructor Eva Smith has been recognized in her profession by DAMA, Data Management Association International, a nonprofit association of data resource management professionals with chapters around the world.
Smith will receive the 2009 DAMA International Academic Achievement Award. The award recognizes an educator for outstanding research or theoretical contributions to the information resource management industry. It will be awarded April 6 at the DAMA International Enterprise Data World Conference in Tampa, Florida.
"It has been exciting to contribute to DAMA International's efforts to more clearly define career paths and skill requirements in this field," said Smith. "I believe that community and technical colleges can play an important role in continuing education for data management professionals."
This is the first time an educator from a community college has received the award and been entered into the data management association's (DAMA) Hall of Fame. Data management professionals hold job titles such as data architect, data analyst, and business intelligence or decision support specialist.
Smith earned her Master of Science in Information Management at the University of Washington in 2005 and her Bachelor of Arts degree in education and sociology in 1981. She is a Certified Data Management Professional (CDMP), and serves on the board of directors for the Institute for Certification of Computing Professionals (ICCP). Before joining the Edmonds CC faculty, she worked for more than 10 years in business and information systems as an analyst, systems engineer, and manager.
Notifying Smith of the award, DAMA International officer, Anne Marie Smith, said: "We are honored to have you as a colleague in the data management field, and we are grateful for all your work over the years to advance the cause of data management, especially through your work on the DAMA Education Committee and the courses you have developed using data management principles."
Find out more
TOP