*** Broken a:14837 z-www-old: News Heading ***
Home-cooking at the Edmonds Conference Center
03/24/2009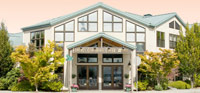 Edmonds Conference Center
For those who opt not to hire a licensed caterer, the center will provide a kitchen monitor with a food workers permit to ensure the safe preparation, storage, and serving of home-cooked food and charge a nominal food service fee.
"We expect this will be an appealing option for brides on a budget, families organizing reunions or celebrations, or any business or social event planner looking for an affordable way to host an occasion," said Diane Toney in customer service at the center. "And many times people simply prefer a home-cooked meal."
There will be no food service charge for those who bring commercially prepared foods that require no assembly or warming for their event. The center has also reduced its linen rental fees.
###
Find out more
Hold your event at the Edmonds Conference Center
TOP