Spend your summer on the islands! Apply now for LEAF School
04/29/2009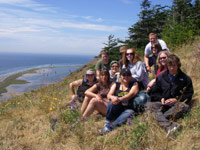 LEAF School project on Whidbey Island, July 2008
The LEAF School is a 15-credit program that will meet 8 a.m.- 5 p.m. Tuesdays through Fridays, July 1 through Aug. 25. Some overnight camping in the San Juans and the Cascades will be required. Camping options may be available on other dates as well. Transportation to and from field sites is provided in vans, ferries and boats.
Scholarships are available through AmeriCorps and the Edmonds College Foundation. All eligible students can earn an AmeriCorps scholarship of $1,000 over the summer! Additional competitive scholarships from Edmonds College Foundation are available to cover up front tuition costs.
Support for the LEAF School comes from Washington Campus Compact, Edmonds College Foundation, the American Association of Community Colleges and the National Oceanic and Atmospheric Administration.
Find out more
TOP