Edmonds College students build windmill
06/17/2009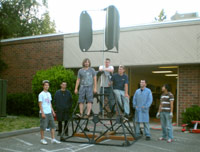 The windmill at Edmonds CC.
Edmonds College makes its first foray into renewable energy at 4 p.m., Thurs., June 18, when students install a windmill at the boiler room on the north side of Mountlake Terrace Hall.
"The windmill was created entirely by students. They came up with the basic concept, designed it, made the necessary tooling, and then built the windmill, all in a 15-week period using skills learned in the Materials Science Technology program," said instructor Ross Monroe. "During this project the students also learned valuable teamwork and project management skills allowing them to complete this complex project on schedule in a short time period."
The Materials Science Technology program at Edmonds CC gives students hands-on experience working with new composite materials. In the past student have built racecars, submarines, and prosthetics. This winter, they began applying their knowledge of materials science and composites to the creation of renewable energy.
They've constructed a 12-foot tall, 200-pound windmill that produces enough energy to power a small electronic billboard. The students used bamboo, a green-building material, which they covered with carbon fiber to increase its strength. The windmill blades are also made of carbon fiber fabricated using a process called vacuum infusion. The blades span four feet, but weigh only five pounds each.
Next year's materials science class will improve upon the windmill design and aim to generate energy to sell to the Snohomish County Public Utility District.
The students who worked on the windmill are: Garrett Bowen, Hawken Downs, Cres Francisco, Blair Haverstraw, Kai Hsu, Cody Mercer, and Carlo Rigoroso. Graduates, Sovichet Hay, Brandon Kizer, and Sara Kizer, who will receive their two-year Associate of Applied Science-T (transfer) degrees on June 19, also worked on the project.
Edmonds College's sustainability initiative seeks to improve the operational efficiency of the campus and to prepare students for the emerging sector of green collar jobs. In the past year, the college has added degrees in Restoration Horticulture and Energy Management and new classes, including Sustainable Development, Human Ecology, and Energy Efficiency.
Find out more
TOP