Career-training agreement signed with Korean college
08/11/2009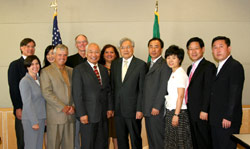 Left-right: Edmonds CC's David Cordell, Stephanie Wiegand, Saerom Han, Jack Oharah, John Michaelson, Martha Acosta-Pieters; Senator Paull Shin; Keimyung College University President Kim Nam-Seuk, Kim Tae-Soo, Choi Young-Sook, Lee Jung-Woo, Shin Ki-Dong.
LYNNWOOD, WA – Edmonds College has signed a five-year agreement of cooperation with Keimyung College University in Daegu, South Korea. Edmonds will provide short-term training and ESL instruction to students from the Korean college. Students at Keimyung will be particularly interested in Edmonds College's hospitality and tourism, business management, multimedia, early childhood education, culinary arts, and technology programs. The schools will also share information about their operations and curriculum development.
Keimyung College University President Kim Nam-Seuk and Edmonds College President Jack Oharah met in July on the Edmonds College campus to sign the agreement. Washington state Senator Paull Shin also attended the signing.
Other representatives of Keimyung College University present for the signing were: Kim Tae-Soo, Dean Office of Industrial Cooperative Education; Choi Young-Sook, Chief, Office of International Center; Shin Ki-Dong, Director, Academic Affairs; and Lee Jung-Woo, Professor of Social Welfare.
The programs resulting from the agreement are representative of other trainings Edmonds College has provided for international groups. These have included programs for Drum Tower Hospital Group, China; 3D Animation College, Denmark; Aichi Institute of Technology, Japan, and others.
More than 800 students from 40 countries study in degree and certificate programs at Edmonds College each year.
###
Edmonds College in Lynnwood, Wash. is a two-year public college accredited by the Northwest Commission of Colleges and Universities and founded in 1967. Find out more at: www.edmonds.edu.
Kiemyung College University in Daegu, South Korea is a private Christian education institution established in 1955. Find out more at: http://www.kmcu.ac.kr/web/go/english.
Find out more
TOP