Educator's legacy will continue to inspire students: Scholarship created in teacher's name
03/24/2010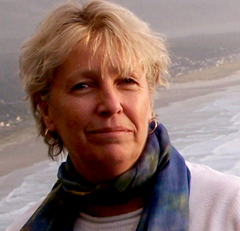 Educator Mary Pat Dennis-Andre
A scholarship has been created in memory of lifelong educator Mary Pat Dennis-Andre, who taught at Edmonds College for 18 years and died of cancer Oct. 20, 2009, at age 57.
Joe Andre made a donation to the Edmonds College Foundation to create an endowed scholarship in his wife's name. The monies will be invested to create a permanent fund, and the scholarships will be awarded annually so long as funds are available.
"Mary Pat often said that she was a teacher. It was not just what she did, but who she was. She dedicated her life to helping those who needed it most. She cared so much about her students," Andre said. "I knew she'd want to give the community this scholarship."
Dennis-Andre began work at Edmonds College in 1991. Most recently, she served as the Director for Student Transition and Retention. In that role, she advised Adult Basic Education, GED, English as a Second Language and High School Completion students. She encouraged students to continue their education and take college courses.
She also taught a College and Career Success class for more than 10 years, which helped students plan to succeed. She taught students about programs at the college, the career choices available to them, and guided them to resources including financial aid and scholarships.
Dennis-Andre helped to establish the Opportunity Grant program on
campus in 2006, which has served more than 200 students. The state-funded program helps students transition from pre-college to college-level career courses. It offers financial help to adults who are working toward a high school diploma or GED or who are taking English as a Second Language classes. It provides them support to continue taking college classes to train for high wage, high demand jobs in health care, electronics, and construction.
When Dennis-Andre retired in summer 2009, the college's Board of Trustees formally recognized her unique contributions as a leader and valued colleague at Edmonds College. Over the years, her contributions were also frequently noted by college employees and students.
"Mary Pat Dennis-Andre's dedication to student success and to assisting nontraditional students overcome barriers will always inspire me," said Michelle Butler, assistant director for student leadership programs, who nominated Dennis-Andre for a college award in 2007. "Watching her interact with students is enough to make anyone remember why they chose education in the first place. Her mentorship as a new professional has been invaluable as I learn to navigate the higher education system."
In a 2006 commencement speech, student speaker David Carnahan called Dennis-Andre "one of my heroes" and credited her with guiding his academic and career paths.
Dennis-Andre's devotion to her chosen career — education — was lifelong. She attended Nazareth Academy and earned her bachelor's and master's degrees in education from The College at Brockport in New York. She taught in migrant worker camps in upstate New York, worked with inmates at a county jail, and helped train police cadets. She joined the faculty at Monroe Community College in New York in 1982 as an adjunct instructor and later became an instructor in the Department of Developmental Education/Department of Transitional Studies. She taught there for nine years before moving to Washington state and joining Edmonds College.
Over the course of her career, Dennis-Andre inspired countless students to stay in school and pursue their career dreams.
"It's fitting that someone as committed to education and her students as Mary Pat should continue to support student success in this way," said Edmonds College Foundation Director Chris Marx. "This scholarship will not only support the individual students who receive the award, but it continues Mary Pat's stewardship of student success in our community."
To contribute to the Mary Pat Dennis-Andre Endowed Scholarship, call 425.640.1274 or email foundation@edmonds.edu.
###
The Edmonds College Foundation supports access, success, and excellence for students, faculty, and staff at Edmonds College. For students interested in attending Edmonds College in 2010-11, it's time to apply for scholarships. The Edmonds College Foundation is now accepting applications for its scholarship program, which includes more than 20 opportunities to receive awards. Students complete one online application to be considered for all of the Foundation's available scholarships. Submit applications before 4 p.m., Fri., April 9. Questions? Call 425.640.1274 or email foundation@edmonds.edu. Apply at www.edmonds.edu/foundation.
Find out more
TOP