Three great scholarship opportunities: Apply now!
10/22/2010
Last year, Edmonds College student Valerie Topacio received the prestigious Jack Kent Cooke Undergraduate Transfer scholarship. She's now studying English and political science at Gonzaga University. Now the Jack Kent Cooke Foundation is looking for more outstanding scholars to help. Apply by Nov. 22 for this outstanding opportunity and read on for more excellent scholarships that can help you get to your goals and get you the recognition you deserve.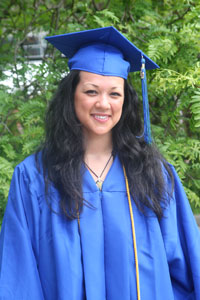 Valerie Topacio received the 2010 Jack Kent Cooke Undergraduate Transfer scholarship. She's currently studying at Gonzaga University.
Apply now for these excellent scholarships!
Jack Kent Cooke Undergraduate Transfer scholarship — Apply by 4 p.m., Mon., Nov. 22. Outstanding community college students with financial need can receive up to $30,000 per year to earn a four-year degree. Get the application as a PDF.
All-Washington Academic Team — Apply by Nov. 1. Receive state recognition, a chance at national recognition, and a scholarship that honors your outstanding academic achievement and community service. Apply online at http://my.ptk.org. Edmonds College will nominate two students for the statewide honor and a chance to receive national recognition. Students must have a 3.5 GPA based on a minimum of 48 college-level credits completed (or in progress during fall semester) at the time of application.
Pride Foundation/Greater Seattle Business Association (GSBA) scholarships — Apply by 5 p.m., Jan. 31. $500,000 is available in scholarships to support education and leadership development for lesbian, gay, bisexual, transgender or queer students of any age; students who have an LGBT parent; and students who are straight allies and are committed to civil rights for the LGBTQ community. There are 50 different types of scholarships with awards up to $10,000 - but only one web-based application to complete! Apply online at www.PrideFoundationScholar.org.
The Edmonds College Foundation scholarship applications will be available online winter quarter to apply for scholarships for the coming year. Many types of scholarships are available and awarded based on financial need, program of study or other criteria. Call 425.640.1274.
TOP