English instructor's poem honored by humanities association
11/29/2011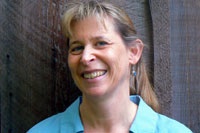 English instructor Holly Hughes' poem "Re-reading Tu Fu Thirty Years Later" has been honored.
Edmonds College English instructor Holly Hughes received the 2011 Crosscurrents Award for Poetry from the Washington Community College Humanities Association (WCCHA) for her poem "Re-reading Tu Fu Thirty Years Later." The award was presented at the WCCHA conference in October.
In 2010, an anthology edited by Hughes has been noted for the national 2010 Independent Publisher Book Awards in the aging/death and dying category.
Hughes' book Beyond Forgetting: Poetry and Prose about Alzheimer's Disease was published by The Kent State University Press in 2009. It's a collection of poetry and prose about Alzheimer's disease written by 100 contemporary writers—doctors, nurses, social workers, hospice workers, daughters, sons, wives, and husbands—whose lives have been touched by the disease.
Hughes's chapbook "Boxing the Compass" was published in 2007, and her poems and essays have appeared in a number of literary journals and anthologies, including "Dancing with Joy: 99 Poems." A graduate of the MFA program at Pacific Lutheran University, she teaches writing at Edmonds CC and co-directs the Convergence Writers Series.
Find out more
TOP