Meet Edmonds College's president Feb. 23
02/15/2011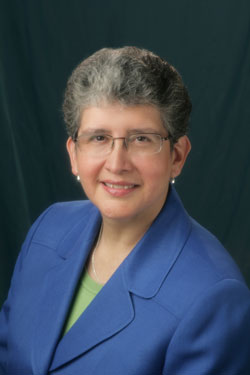 Dr. Jean Hernandez
Meet Edmonds College President Jean Hernandez at a reception 5:30-7 p.m., Wed., Feb. 23 in the Triton Student Center, Brier Hall.
The Edmonds College Board of Trustees named Jean Hernandez president of the college in December 2010. Hernandez's selection completed a national search that began last spring, after the college's president of nearly 15 years, Jack Oharah, announced his retirement.
The college's presidential search involved participation from college students, college employees, and community members. Hernandez began work at the start of winter quarter Jan. 3, 2011.
With close to 30 years experience in higher education, Hernandez was most recently the vice president for instruction at South Seattle Community College, where she served as the interim president and vice chancellor from March to July 2010.
As vice president for instruction, Hernandez increased the diversity of the tenure track faculty by ethnicity, religion, and age; collaborated with faculty leadership to create a tenure handbook and tenure orientation sessions; and received six grants through the Workforce Development Council of Seattle-King County totaling more than $500,000.
Hernandez began her community college career at Shoreline Community College as a multicultural studies teacher who was promoted to dean of Health Occupations and Physical Education. She then joined Cascadia Community College as the executive vice president for student learning, where she served as the Accreditation Liaison Officer to the Northwest Commission on Colleges and Universities.
She has also served in numerous leadership roles with the Washington state community and technical college system. In addition, she worked in university environments in the areas of human resources, admissions, and career services.
Hernandez received her Doctorate of Education degree in Educational Leadership & Policy Studies from the University of Washington and her Master of Education in Counselor Education and Bachelor of Science in Secondary Education degrees from the University of North Texas.
The reception is sponsored by the Edmonds College Board of Trustees, the Workforce Development Council of Snohomish County, and the South Snohomish County Chamber of Commerce.
Established in 1967, accredited by the Northwest Commission on Colleges and Universities, and governed by the Washington State Board of Community and Technical Colleges, Edmonds College is a leader in providing quality opportunities for learning and service, responding to the dynamic needs of our diverse community. The college serves more than 20,000 students annually.
Find out more
TOP