Join us for powwow and sustainability events this month
05/03/2011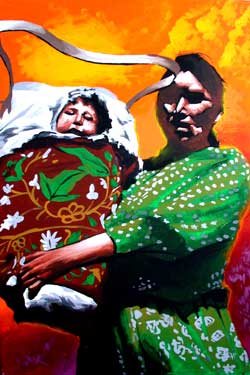 The college hosts a powwow, Honoring Our Mothers, May 6-8 in Seaview Gym.
Edmonds College is committed to thinking, teaching, and living green. Join us at events focused on sustainability in May. All are free and open to the public.
Powwow, "Honoring our Mothers," May 6-8, Seaview Gym. The college's Native American Student Association brings students, family, and community together to celebrate American Indian singing, drumming, dancing, and arts and crafts. Raffle prize drawing. Dance and drum ceremonies will be 7 p.m., Friday, 1 and 7 p.m. Saturday and 1 p.m., Sunday. Find out more at www.edmonds.edu/powwow.
Building Community Day, 2-3:30 p.m., May 6. Local writer and meditation teacher Kurt Hoelting will talk about "The Rewards of Going Car-Free." He is the author of A Year In Circumference about his year of car-free living. Learn strategies to go car-free and about the environmental and health benefits.
Lecture: Conservation Efforts in the Philippines, 11:30 a.m., May 10, Meadowdale Hall 124. Biology instructor Hans Landel will describe several examples of conservation efforts — saving the Philippine eagle, whale shark, and giant clam — he learned about while on professional leave in the Philippines.
Student Panel: Coyotes, Cars and Cameras: Wildlife Monitoring in Snohomish County, 12:30 p.m., May 16, Woodway Hall 202. Students from the college's Learn and Serve Environmental Anthropology Field (LEAF) School and biology courses share the results of monitoring wildlife with remote sensor cameras and wildlife tracking at current and prospective bridges in Snohomish County. Find out which animals are in your neighborhood, when they are moving around and how they cross the road.
Kick-off for Bike to Work Day: Promoting Alternative Transportation at Edmonds CC, 2 p.m., May 16, Woodway Hall 202. Meet college cyclists, hear about the non-profit Village Bicycle Project and learn how you can be part of our Commute Trip Reduction plan by participating in our Go Green Alternative Transportation contest during Earth Month.
Movie: Tales From the Hive, 11:30 a.m., May 18, Brier Hall 185. Join us to view the NOVA film that chronicles a year in the life of a honeybee colony and learn about the bees that just arrived on the college campus!
Student Panel: Sustainability Around the World, 3 p.m., May 26, Snoqualmie Hall 113. International students at Edmonds CC will show how they're addressing environmental challenges and taking positive action to address issues in their home countries.
Ongoing activities:
Go Green Contest: Take the bus, ride your bike, walk, or carpool this month for a chance to win prizes. We'll have weekly drawings throughout Earth Month for students and employees. Use alternative transportation and enter to win at the College Store.
Bike Collection Drive: Donate used bikes to the Village Bicycle Project.
Measure Your Water Footprint: Participate in the Flow: For the Love of Water project by measuring your water footprint during Earth Month. Turn it in at the end of the month for a chance to win prizes, including a sail on the schooner Indigo this spring! Get the sheet to keep track at the Center for Service Learning, Brier Hall 257.
Library Display of Sustainability/Environmental Resources: Find more resources to explore Earth Month, sustainability, and the environment at the library including a Libguide on the film: Flow: For the Love of Water.
Reuse-A-Shoe Recycling: Drop-off your old athletic shoes at the Triton Student Center in Brier Hall. Keep them out of the landfills. Athletic shoes only. No cleats. No metal. The shoes will be made into sports and playground surfaces. Sponsored by Nike.
Find out more
TOP