Smith to direct Information Technology at Edmonds College
08/24/2011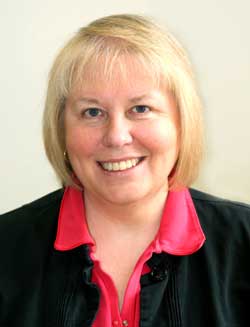 Eva Smith
Edmonds College has hired Eva Smith as Director of Information Technology to manage IT projects and technology innovations. She has worked at the college since 2001.
Smith, from Bothell, was selected for her extensive experience in IT-related project management. Before joining the college, she worked for more than 10 years in business and information systems as an analyst, systems engineer, and manager.
At Edmonds CC, she has been an instructor in the Computer Information Systems department and helped develop and teach the college's Database Information Technologies curriculum. In addition, she has helped coordinate the college's accreditation self study, has worked as an activities director on the college's federal Title III Strengthening Institutions grant focused on assessment and the use of data to improve institutional effectiveness, and as a faculty mentor in instructional technology and distance learning.
Smith earned her Master of Science in Information Management at the University of Washington in 2005 and her Bachelor of Arts degree in education and sociology in 1981.
She also received extensive formal IT training and experience as a systems engineer at Electronic Data Systems Corporation (EDS) in the early 1990s. She is a Certified Data Management Professional (CDMP), and serves on the board of directors for the Institute for Certification of Computing Professionals (ICCP).
In 2009, she received the Data Management Association (DAMA) International Academic Achievement Award, for outstanding research or theoretical contributions to the information resource management industry. It was the first time an educator from a community college had received the award and she entered the DAMA Hall of Fame.
Rod Halverson, an IT manager, has been the interim IT director for the past two years.
The college's previous director of information technology, Kevin McKay, is now its vice president for finance and operations.
Due to budget considerations, the college filled its IT director position following an internal search. The college expects to reopen the position after a year for a regional search
TOP