English faculty read at Hugo House Nov. 1
10/28/2011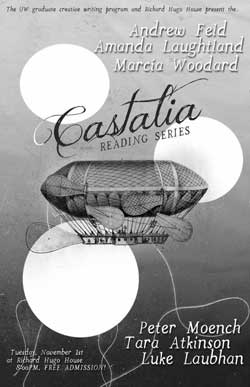 The Castalia Reading Series will be 8 p.m., Nov. 1 at Richard Hugo House in Seattle.
English instructors Amanda Laughtland and Marcia Woodard, alumni of the University of Washington's Master of Fine Arts in English/Creative Writing program, will read 8 p.m., Tuesday, November 1, at Richard Hugo House, 1634 11th Ave. on Capitol Hill in Seattle.
The reading is part of the Castalia Reading Series sponsored by the University of Washington's graduate creative writing program.
Admission is free.
Find out more
TOP