America's Strongest Woman works at Edmonds College
11/17/2011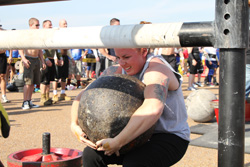 Kristyn Whisman, Dean of Corrections, winning the title of America's Strongest Woman. Photo: Ray Novak
Kristyn Whisman, Edmonds College's Dean of Corrections Education at the Monroe Correctional Complex, has competed for and won the title of America's Strongest Woman in the Lightweight Women's Division of the North American Strongman (NAS) Nationals for the third time.
The NAS nationals America's Strongest Women event took place in November at Harrah's Casino in Mississippi.
Participants competed in six events over two days: log clean and press for reps, yoke walk, farmer's walk, frame deadlift for reps, keg carry for distance, and atlas stone over bar for reps.
Whisman:
clean and pressed a 110 pound log 10 times in one minute, to tie for first place;
carried a 350 lb yoke 80 feet in 11.78 seconds, for second place;
carried 120 pound farmer's handles 80 feet in 10.43 seconds, for second place;
deadlifted a 405 pound frame 37 times in one minute, for second place;
carried a 150 pound keg for 190 feet, for fifth place; and
loaded the 200 pound atlas stone over a 50 inch bar four times in one minute, to tie for first place — and take the overall win by 1.5 points.
"Going in to the last event, the atlas stone, which is a quintessential strongman event, I was in second place. Before we started the stone, I knew I just had to go out and do as best as I could in the stone, and just wait to see what happened," Whisman said
"Getting first place in the atlas stone was good enough for the overall win! I worked so hard for this, and to win the championship for a third time was extremely gratifying. It was an extremely tight contest, which made it much more exciting and fun. All the competitors worked so hard and everyone was hitting personal records throughout the entire weekend. It really was a great event."
Find out more
TOP