Disabilities Awareness Week events: Rolling Tritons game Saturday
04/14/2011
Disabilities Awareness Week events include a talk by Logan Olson, founder of Logan agazine, for young people with disabilities. She speaks on her experience after a brain injury noon-1 p.m., Thurs., April 14 in Brier Hall 141. Free.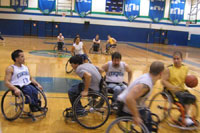 The Rolling Tritons
Upcoming events for Disabilities Awareness Week:
Student panel: Edmonds College students with disabilities share their experiences and answer questions noon-1 p.m., Fri., April 15 in Brier Hall 141. Free.
Rolling Tritons Wheelchair Basketball Game and silent auction to benefit students with disabilities at Edmonds College. Doors open at 6 p.m., game at 6:30 p.m., Sat., April 16 in Seaview Gym. $5 includes a T-shirt. The T-shirts are now on sale in the Services for Students with Disabilities Center, Mountlake Terrace 159. Your T-shirt is your ticket.
Find out more
TOP