Accounting students are college's top scholars
02/06/2012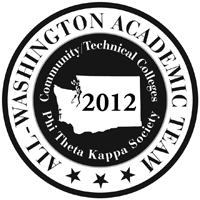 Edmonds College students Abdoukarim Drammeh and Siyu Lu came from different continents to follow similar paths at Edmonds College. Drammeh is an international student from Gambia. Lu is an immigrant from China. They are both studying accounting with plans to become Certified Public Accountants and work at major accounting firms. They also have long-term goals of delving into nonprofit work.
They will be recognized for their scholarship, leadership, and community service at a ceremony at noon, Thursday, March 22 at South Puget Sound Community College, Olympia.
They are among 63 of the state's top scholars who will receive recognition as members of the All-Washington Academic Team. Each two-year college in the state may nominate two students for the honor.
Both students are working while taking classes and have found paying for college to be their biggest challenge. The award comes with a $750 scholarship from KeyBank of Washington and Northwest Education Loan Association (NELA). In addition, all of the state's public four-year colleges and universities and most of the state's independent colleges offer additional scholarships for academic team members who transfer to their schools.
Abdoukarim Drammeh
Drammeh, 21, of Everett, is earning his Associate of Arts in Business degree with plans to study accounting at Central Washington University-Lynnwood. He works at a financial services firm. His goals are to work at a major accounting firm and to establish a credit union to assist small businesses in developing nations.
Siyu Lu
Lu, 22, of Lynnwood, plans to study accounting and finance at the University of Washington. Because of family issues, she was recognized as a homeless student in high school and survived by working part time and using food stamps. She's a full-time student taking Honors classes, helping to organize the college's Lecture Series, and volunteering as a tutor for at-risk students. She also works part-time to pay for school. Siyu plans to become a Certified Public Accountant and financial planner.
The top ranked member of the All-Washington Academic Team will be named the state's New Century Scholar and receive additional honors and scholarships as part of the All-USA Academic Team for Community, Technical and Junior Colleges. Phi Theta Kappa, USA Today, and the American Association of Community Colleges sponsor this annual recognition for top community college scholars.
###
The All-Washington Academic Team program recognizes and honors our state's finest higher education students. The students who make up the All-Washington Team reflect the diversity of the state, maintain high standards of excellence, and contribute positively to the community. Their stories are often inspiring, sometimes surprising, and always reflective of the larger story of the state's community and technical college students.
Find out more
TOP