Congratulations to our Edmonds CC Community Read scholars!
02/10/2012
Edmonds College students Tonja Campbell, Lacy Kinman, and Melissa Sokolowsky are the recipients of the 2012 Edmonds CC Community Read scholarship. The $1,200 award from the Edmonds College Foundation covers spring quarter tuition ($1,180.80 for 15 credits).
The students read Timothy Egan's "The Big Burn" and completed projects based on it. They created a children's book, painting, and fire performance. They later met the author at his lecture Feb. 8 at the college.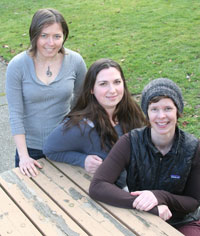 Edmonds CC Community Read Scholars: (left to right) Melissa Sokolowsky, Lacy Kinman, and Tonja Campbell
"The Big Burn" tells the true story of the fire that blazed through drought-stricken Northwest national forests in 1910 and the forest rangers, soldiers, college students, and immigrants who fought it. It paints a portrait of President Teddy Roosevelt and his chief forester, Gifford Pinchot, who turned public land into a national treasure and established conservation as a national value.
Tonja Campbell
Campbell wrote and designed a children's book, "Pinchy and Puli: Seeds Freed by Fire." It tells a story from the perspective of two lodgepole pine seeds (named after Gifford Pichot and Edward Pulaski, a U.S. Forest Service Ranger) who are able to sprout and grow as the result of a fire.
"Learning about seeds affected by fire in Tim Hohn's Horticulture 102 class and reading children's books to my 2-year-old daughter, Juniper, helped shape the idea," Campbell said. She is studying Restoration Horticulture at the college. She has a career as a psychiatric nurse and is pursuing her interest in restoration ecology at Edmonds CC.
She hopes to attend the College of the Environment at University of Washington for a BS/MS in Restoration Ecology and is interested in working in restoration especially in the areas of mycorestoration/remediation.
Lacy Kinman
Kinman completed a painting, "Hope Through Loss," acrylics with mediums added, based on three scenes from the book. "I wanted to tap into what I felt for the men who fought the fires and for the many who lost their lives, for the families who lost their livelihoods, and for everyone who was unable to get out in time," she said.
Kinman is working on her Associate of Arts degree at Edmonds CC. She has been running her own online retail business, but now that her daughter is older, she is pursing her dream of attending college and becoming a teacher. She is discovering her artistic talent at the college in classes such as Painting, Art 150.
Melissa Sokolowsky
Sokolowsky created a presentation, which includes a video of a kung fu-influenced fire-sword piece she choreographed and performed. "Fire is a force to be respected, and just as a fire performer gracefully moves in harmony with the fire she carries, wildfire is actually harmonious with nature as well," she said. Sokolowsky is retraining from a career in web design with studies of electronics and renewable energy.
She is studying Energy Management at Edmonds CC, with an interest in working to help individuals and companies implement energy-saving technologies and practices. "I had the opportunity to travel to China to study kung fu under a Chinese master. This was an eye-opening experience; I saw magnificent structures and climbed the Great Wall, and also, in certain areas, witnessed the worst pollution I'd ever seen. This renewed my interest in helping to foster sustainability."
Egan is a Pulitzer Prize-winning reporter and the author of six books, including "The Worst Hard Time," a history of the Dust Bowl, which won a National Book Award for nonfiction and was a Washington State Book Award winner. He writes a weekly column, "Outposts," for The New York Times.
This is the fifth year of the Edmonds CC Community Read program. Previous books have included: "The Boy Who Harnessed the Wind" (2009) by William Kamkwamba and Bryan Mealer; "Banana: The Fate of the Fruit that Changed the World" (2007) by Dan Koeppel; "Middle Passage" (1998) by Charles Johnson; and "Zaatar Days, Henna Nights, Adventures, Dreams and Destinations Across the Middle East" (2007) by Maliha Masood
Find out more
TOP