'Safeguarding Big Blue' May 11 at Edmonds Conference Center
05/01/2012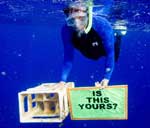 Captain Charles Moore author of "Plastic Ocean," will talk about the Great Pacific Garbage Patch and tsunami debris that is beginning to reach our shores at the "Safeguarding Big Blue" event 7-9 p.m., May 11 at the Edmonds Conference Center.
Edmonds College's Learn and Serve Environmental Anthropology Field (LEAF) School and the Mangrove Action Project will sponsor an event focused on sustainable oceans, "Safeguarding Big Blue," 7-9 p.m., May 11 at the Edmonds Conference Center, 201 Fourth Ave N, Edmonds.
The event features speakers Captain Charles Moore, author of "Plastic Ocean," speaking about the about the Great Pacific Garbage Patch and tsunami debris that is beginning to reach our shores. Alfredo Quarto of Mangrove Action Project and Anne Mosness, organizers of Bluefestival, discuss how production of farmed seafoods changes coastal ecosystems, economies and communities.
Quarto, who has been working for more than 20 years to oppose the destructive expansion of shrimp farming along mangrove coastlines, urges the public to "Question Your Shrimp" and to greatly reduce consumption of imported shrimp. Mosness, long-time wild fish advocate, said she is concerned that policies, "generally under the radar screen, could lead to expansion of marine fish farms in our state and nation's waters, approval of genetically engineered fish, even certification of farmed fish as 'organic'."
Organizations will also present information about the health and sustainability of the local marine environment. For more information, call 425.640.1125 or email erin.ryan@edmonds.edu.
Students in the LEAF School began working with the Port Townsend Marine Science Center Plastics Project and WSU Extension Beach Watchers in 2006 to monitor the amount of plastic washing up on local beaches.
This year, they have worked the City of Everett and a volunteer advocate for the health of Puget Sound, retired Navy Cmdr. Wally Davis, to continue biannual surveys looking for plastics on Jetty Island in Everett. Davis has been working with the marine science center to statistically analyze all of the data on plastic collected over the years by the Beach Watchers. In 2011, he also collected environmental samples for plastic throughout the Inside Passage from Everett to Skagway, Alaska.
"Plastic is being eaten by invertebrates, fish, and birds and it accumulates in higher levels of the food chain," said Davis. "Large quantities of plastic have been found in the digestive systems of dead whales that washed up on the beaches of Washington. Some estimate that plastic in the environment may be responsible for killing at least 100,000 marine mammals a year and millions of birds and fish."
Before the evening "Safeguarding Big Blue" event, the LEAF school students, joined by students from Scriber Lake High School, will conduct a plastic sampling on Jetty Island. The data they gather will help measure the impact of the recent Japanese tsunami on Washington beaches.
Find out more
Learn and Serve Environmental Anthropology Field (LEAF) School
TOP