English instructor Holly Hughes honored for excellence in education
06/14/2012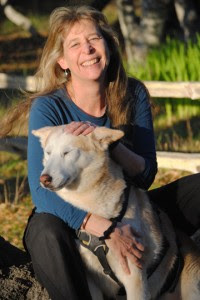 Edmonds College English instructor Holly Hughes and Fox. Photo credit: Isolde Pierce
Edmonds College English instructor Holly Hughes has received the 2012 Excellence in Education Award from the college's trustees. The award honors individuals who have demonstrated outstanding commitment to education and the college's mission.
"In addition to her outstanding teaching, she is a well-respected, humble, and brilliant colleague," said Chair of the Edmonds College Board of Trustees Dick Van Hollebeke in presenting the award. "Her mark on the college is singular and noteworthy in so many ways. However, her contributions to making our wider communities and our planet a better place to live are an even greater testimonial to her passion, energy, and dedication."
Hughes has taught English at the college since 1993. During her tenure, she has been active in the college's lecture series that brings authors to campus. She co-founded the college's Sustainability Initiative with horticulture instructor Tim Hohn in 2006 and serves as co-chair of the Sustainability Council. She's a past advisor to the ecology club, student newspaper, and campus literary and arts journal, Between the Lines.
Hughes is co-author with Brenda Miller of "The Pen and The Bell: Mindful Writing in a Busy World" (Skinner House Press, 2012), editor of the award-winning anthology, "Beyond Forgetting: Poetry and Prose about Alzheimer's Disease" (Kent State University Press, 2009) and author of the chapbook "Boxing the Compass" (Floating Bridge Press, 2007). Nominated for several Pushcart prizes, her poems and essays have appeared in many anthologies.
Hughes has also earned a 2012 Literary Fellowship from Artist Trust, a nonprofit dedicated to supporting Washington state artists working in all creative disciplines. She has spent more than 30 summers working on the water in Southeast Alaska as a commercial salmon fisherman, boat skipper, and naturalist ,and will be working on a collection of essays about her experiences.
Hughes earned her Master of Fine Arts in Creative Writing studying poetry and creative nonfiction at Pacific Lutheran University's Rainier Writing Workshop in 2006. She earned her master's from the University of Washington in 1988 and her bachelor's in English at St. Olaf College in Minnesota in 1977.
This fall, she teaches English 151, Writing Poetry at Edmonds College. Classes start Sept. 24.
The Board of Trustees' Excellence in Education Award has been given annually to one recipient at the college since 1984. It comes with a $500 gift and $1,000 in professional development funds for the recipient's department.
George Smith, Edmonds College's Vice President of Student Services, received the award in 2011. Past recipients have included grants director Beth Nichols, sociology instructor Anne Martin, anthropology instructor Tom Murphy, and international education division leader David Cordell.
Find out more
TOP