Edmonds CC read: Enjoy the book, earn a scholarship
10/26/2012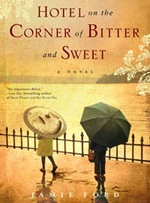 Author Jamie Ford visits campus 12:30 p.m. on Feb. 27.
Read along with Edmonds College for the 2012-13 Edmonds CC Community Read, "Hotel on the Corner of Bitter and Sweet," (2009) by Jamie Ford. Ford comes to campus to talk about his book 12:30 p.m., Feb. 27, in the Black Box Theatre. The lecture is free and open to the public.
"Hotel on the Corner of Bitter and Sweet" begins in 1986 outside the Panama Hotel in Seattle where the belongings of Japanese families sent to internment camps during World War II have been discovered.
The novel tells the story of first generation Chinese American Henry Lee and Keiko Okabe, a young Japanese American student who forge an unlikely friendship amid the chaos of blackouts, curfews, and FBI raids of the 1940s.
An award-winning short-story writer and New York Times bestselling author, Ford is an alumnus of the Squaw Valley Community of Writers and a survivor of Orson Card's Literary Boot Camp.
Ford grew up near Seattle's Chinatown. He is the great grandson of Nevada mining pioneer Min Chung, who immigrated from Kaiping, China, to San Francisco in 1865, where he adopted the western name "Ford."
"This novel brings to life a terribly unjust time in our nation's history — the internment of Japanese-American citizens during World War II," said Ksenia Koon, Arts, Culture and Civic Engagement director at the college.
"It serves as a reminder of the importance of Edmonds College's values of inclusion and respect. We are honored to welcome author Jamie Ford to our campus to discuss this inspirational novel with our students and community."
This is the sixth year of the Edmonds CC Community Read program. Books have included: "The Big Burn" (2009) by Timothy Egan, "The Boy Who Harnessed the Wind" (2009) by William Kamkwamba and Bryan Mealer; Banana: The Fate of the Fruit that Changed the World (2007) by Dan Koeppel; Middle Passage (1998) by Charles Johnson; and "Zaatar Days, Henna Nights, Adventures, Dreams and Destinations Across the Middle East" (2007) by Maliha Masood.
Find out more
TOP