Emergency dental services on campus, thanks to Medical Teams International, Verdant Health
11/28/2012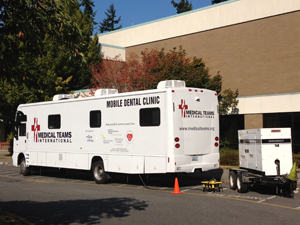 Medical Teams International's mobile dental clinic visits Edmonds College.
Medical Teams International, a nonprofit organization dedicated to global health, has brought free dental care services to eliminate pain and prevent future tooth decay to Edmonds College students and other south Snohomish County residents. Its mobile dental clinics address urgent care needs including extractions and fillings.
In addition to Edmonds College, four other mobile dental sites are supported by this partnership.
Medical Teams International's mobile dental program began visiting each of these locations one day a month beginning this fall. Volunteer dentists provide the services. Verdant Health Commission pays for the equipment and supplies.
"Imagine trying to take a math test with a toothache," said Lenora Ebenal of the college's Counseling and Resource Center. "I'm grateful to have a place where I can refer people in crisis for help. These are students who are trying to secure a better life and support their families by earning a degree or certificate."
The mobile dental program can serve up to 14 people a month at each location. The mobile clinic operates out of 38-foot converted mobile home. It contains two dental operatories and all the necessary equipment, instruments, and supplies.
The program is seeking a volunteer dentist who can provide root canals and volunteer dental hygienists who could offer cleanings.
"The mobile dental program is another service we can offer students with the support of our community," said Nicola Smith, dean of student life. "It makes a huge difference."
Medical Teams International's Mobile Dental Program has provided free or low-cost dental care to low-income children and adults since 1989. Its fleet of 11 mobile clinics serve Washington, Oregon, and Minnesota. More than 200,000 people have benefited. The program has provided nearly $9 million in dental care.
###
Medical Teams International | www.medicalteams.org
This Christian global health organization helps people affected by disaster, conflict and poverty in 70 countries. It delivers medical and dental care, humanitarian aid, and holistic development programs to all people in need, regardless of religion, nationality, sex, or race.
Verdant Health Commission | www.verdanthealth.org
Building a strong foundation for a healthy community, the commission funds a wide range of programs that empower people in south Snohomish County to make healthy decisions and get the care they need to stay well. It invests in innovative programs that will make a lasting impact on the health and well-being of south Snohomish County residents.
Edmonds College | www.edmonds.edu
Established in 1967, the college strengthens our diverse community by helping students access educational and career opportunities in a supportive environment that encourages success, innovation, service, and lifelong learning. It serves more than 20,000 students annually.
Find out more
TOP