No engine needed: College team to take on automakers in gravity car races
06/30/2012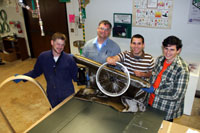 Left to right: Materials science students Evan Stark, Rick Stilwell, Augusto Dolce, and David Faulds with some of the space age materials, including a fabric made out of volcanic rock, they are using to build a gravity powered car.
Materials science students at Edmonds College are preparing to race at the Extreme Gravity Racing event in Malibu this summer. It's the first year any colleges have been allowed to join the likes of GM, Nissan, Bentley, VW, Audi, and Ferrari at the innovative event.
On July 29, Cliff Van Sickel hopes to sit in the driver's seat of a glittering volcanic rock covered car with Le Mans car styling freefalling 50 miles per hour down Tuna Canyon at the Extreme Gravity Racing event in Malibu.
The car will be made of advanced materials never before seen on the road, including a recently declassified basalt fabric used on Russian MiG jet fighters. But Van Sickel's dream isn't symptomatic of four viewings of "Blade Runner" this quarter for Introduction to Film. Racing into innovative, high tech environments — that's what materials science students really do.
Last summer, Edmonds College materials science students placed tenth at the International Submarine Races in Maryland. They were the only community college there, gliding through the water alongside seasoned competitors from major universities.
This year they are breaking ground again, joining the likes of GM, Nissan, Bentley, VW, Audi, Ferrari, and Volvo — last year's winner — at the gravity-racing event. The website gravityseries.com tells participants to expect an "unparalleled diversity of designs: longer, wider, faster, and wilder-looking than anything else on the planet!" Car companies use Don MacAllister's charity-event (proceeds go to foster youth) as a team-building exercise for their engineers.
This is the first year any academic teams will participate. For Edmonds CC materials science students, it's an opportunity to experience managing a project — developing a proposal, budget and timeline — and apply their knowledge.
This kind of practical experience is the reason Rick Stilwell focused his interest in engineering on materials science. Already it's paying off. After Stilwell completed an internship at Boeing, the company hired him as a materials tester and began paying his tuition. When he completes his two-year degree in June, it will be an instant promotion.
"They are excited for me to complete my degree," he said. "And I am, too."
In the meantime, the racecar project affords hands-on opportunity built for speed. The challenge is to create a gravity powered racecar — no engine — that meets the competition's specifications. It must be no bigger than 9 feet long and 4 feet wide, weigh no more than 350 pounds including the driver — and it's got to have brakes.
As the students design and build the car, they work with the materials they've studied, the processes they've learned from resin infusion to thermoforming, and potential employers.
Demand from employers for technicians with knowledge of advanced materials led Edmonds CC to start the materials science program in fall of 2003 with federal funding. Employers remain involved on the advisory board for the program and lend a hand when students take on special projects.
Fiberlay, Inc. in Seattle, a distributor of fiberglass supplies, donated resin for the car's body.
C & D Zodiac, Inc. (Northwest Composites) in Marysville may let the students use of one of their ovens to cure the car's carbon fiber sandwich composite floor. PSA Composites, LLC in Kent donated material for the frame, a polypropylene composite still under research and development, and gave the students a tour of its facility.
This was exactly the kind of experience that brought team member Evan Stark, 33, of Lynnwood, a former welder, to the program.
"Materials science is an industry where rapid advances happen daily and we got to see it first hand at PSAC. Extruding plastic aligns its molecular chain and increases its strength," Stark said.
He plans to look for work in the aerospace industry after graduation.
When the students had difficulty getting a hold of carbon fiber for the chassis (the materials is in high demand by Boeing and the Department of Defense), instructor Gene Fusch did a little research online and called a company based in Ukraine trying to market an alternative. After the students submitted a design proposal, Sudaglass Fiber Technology, Inc. shipped the students two rolls of basalt fabric.
For the company, just beginning to sell its product to major auto manufacturers, having a test run at the Extreme Racing Series is a perfect opportunity.
So Van Sickel may well speed 3 miles down one of most challenging hill courses in the world before he heads to Western Washington University for his bachelor degree. If the other Materials Science Student Association team members give him the honor of driving, of course. All of them will definitely be mingling at the race with some of the world's best car designers. Van Sickel has his business cards ready.
For a guy whose goal is to one day run a business designing world-class cars, it's the perfect opportunity.
Find out more
TOP