Edmonds CC to host Veterans Awareness resource fair Nov. 7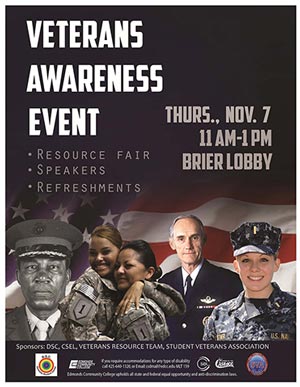 10/22/2013
Edmonds College will host a Veterans Awareness Day Celebration and Resource Fair from 11 a.m.-1 p.m. Thursday, Nov. 7, in the Triton Student Center in Brier Hall on campus, 20000 68th Ave. W.
The event will include guest speakers and information tables featuring service providers from campus and the community. Refreshments will be available.

Campus exhibitors in the resource fair include the campus' Counseling and Resource Center, Edmonds CC Foundation, and the Student Veterans Association.

Exhibitors from the community include military recruiters and representatives from WorkSource, Vet Corps, and Randi J. Jensen, an author and counselor who specializes in issues affecting veterans.

Here's a closer look at the event. You can:
Browse the resource fair, which includes a wide variety of exhibitors from groups that support veterans both on and off campus;
Hear from guest speakers, including Edmonds CC President Jean Hernandez with the opening address;
Get acquainted with a variety of service providers who help improve the college experience for veterans; and
Learn techniques to help to overcome feelings of isolation — often experienced by veterans — by creating an opportunity for open dialogue between students and veterans that can help break down the stigma often surrounding those who have served.
Edmonds College recently named Chris Szarek the first director of its Veterans Resource Center, which assists veterans in navigating enrollment, helps them access educational and financial benefits, and offers other resources while veterans attend college.

Szarek is a 20-year veteran of the Navy Seabees who attended Edmonds CC and graduated with a Master of Business Administration from the University of Washington-Bothell.


Find out more
TOP