Edmonds CC choir students take advantage of iPads to make their music sing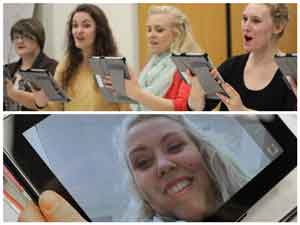 11/14/13
Choir groups in Edmonds College's Music department have a brand-new way of learning — with the aid of an iPad.
The college's Technology Investment Management Committee — which comprises student and employee representatives — approved a grant for the purchase of 40 new iPads and music apps stored on the tablets. The committee is responsible for recommending allocations of the students' one-time technology investment fund — supported by a technology fee of $2.40 per credit that all students contribute to — and the college's matching allocation.

Students in the Symphonic Choir and Soundsation vocal jazz choirs will be allowed to use the iPads while enrolled at Edmonds CC.

Choir director Kirk Marcy distributed the iPads recently from a music room in Mill Creek Hall. "Even on day one, we were able to teach the students how to make (in the music reader app forScore) some of the same score markings that they would typically do in pencil on paper," he said. "Recently, students have been creating audio recordings of themselves during rehearsals. They have sent these recordings to me for evaluation and feedback. It has had a noticeable impact on the effectiveness of our rehearsals."

Marcy also worked with Soundsation students on an app called iReal to help them prepare individual solos to perform in class.

"Prior to this," said Marcy, "we would have to carve out time individually for students to work with our live rhythm section. Now, they have the ability to practice and perform an unlimited number of jazz songs, in whatever style, key, and tempo they wish."

Marcy said that Edmonds CC is the only college in Washington to have entire ensembles using iPad technology.

Edmonds College's Symphonic Choir will perform 7:30 p.m., Thursday, Dec. 5, at Trinity Lutheran Church, 6215 196th St. SW, Lynnwood. Admission is a suggested donation of $7, with all proceeds going to Music department scholarships.
Find out More
TOP