Service dogs to help students de-stress leading up to finals week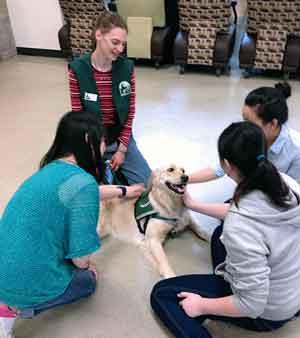 11/25/2013
Edmonds College students will have a chance to take some pressure off themselves the week before finals as the college and Summit Assistance Dogs present a de-stress event 11 am.-2 p.m., Monday, Dec. 2, in Brier Hall on campus, 20000 68th Ave. W.
"Many colleges and universities are developing similar programs to help students through finals week," said Summit's executive director, Sue Meinzinger. "Research shows that interaction with pets can decrease the level of cortisol —or stress hormone — in people, while at the same time increasing the good endorphins."

"This is a great opportunity to support an organization that's helping individuals with disabilities," said Edmonds CC President Jean Hernandez, who was instrumental in bringing the event to campus. "I see this as great for both of us, as Summit can give their dogs further training in a populated area. It also gives our students an opportunity to de-stress as they get ready to go into their finals week."

Summit Assistance Dogs, based in Anacortes, is a nonprofit organization founded in 2000 in response to the overwhelming need for more trained service dogs. More than 55 million Americans live with various disabilities, and the national average waiting time to receive a service dog is two to five years.

Edmonds CC's fall quarter ends Dec. 12. Winter quarter is Jan. 6-March 21, with registration going on now.
Find out more
TOP