New farmers market benefiting Edmonds CC Foundation
05/07/2013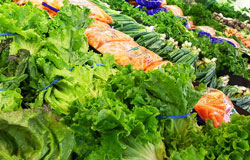 A new farmers market in Edmonds benefits the college.
Salish Crossing, in support of Edmonds College and Edmonds Historical Museum, is launching a new Wednesday evening farmers market in Edmonds.
"I was delighted to hear from Salish owner Nick Echelbarger that every dollar raised by the market will go to support Edmonds College Foundation scholarships and the Edmonds Museum," said Edmonds CC President Jean Hernandez. "It will be a real celebration of healthy living and a great community partnership."
The market, which will have an emphasis on fresh produce, is meant to complement two existing markets in downtown Edmonds sponsored by the Edmonds Historical Museum: the Garden Market (Saturdays, May 4-June 22) and the Summer Market (Saturdays, June 29-Oct 5, except Aug. 10).
The new market will be held 3-7 p.m. Wednesdays, June 12-Oct. 2. The location is at Salish Crossing, 190 Sunset Ave., by the Edmonds ferry terminal.
Echelbarger said that he has commitments from numerous farmers to provide beef, lamb, eggs, cut flowers, spinach, chard, zucchini, cucumbers, tomatoes, lettuce, parsley, arugula, honey, berries, tree fruit, and more.
The market will be managed by Edmonds resident Alana McGee, owner of a truffle hunting and truffle dog-training company.
"Farmers markets have grown in popularity as they allow consumers to have access to locally grown, farm fresh produce while enabling farmers the opportunity to develop a personal relationship with their customers," said Stephen Clifton, Edmonds' director of community services and economic development
"I am hopeful that the success of the Wednesday evening market could indicate community support for a year-round farmers market or public market."
Find out more
TOP