Edmonds CC Symphonic Choir concert features original work
06/01/2013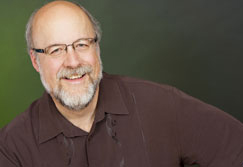 John Muehleisen has composed an original piece of music for Edmonds CC.
The Edmonds College Symphonic Choir presents its spring concert 7:30 p.m. Monday, June 10, at Trinity Lutheran Church, 6215 196th St. SW, Lynnwood.
The event is free and open to the public.
This year, the choir will debut an original piece of music, "Sing to Me!," composed by John Muehleisen with a poem by Ella Wheeler Wilcox and commissioned by the Edmonds CC Arts, Culture, and Civic Engagement program.
The choir will perform a variety of pieces, with the unveiling of "Sing to Me!" the grand finale. Choir Director Kirk Marcy also invited local high school choirs to select a quartet of their top students to participate in "Sing to Me!"
"The opportunity to be a part of a world premiere piece of music is rare and significant for any musician," said Marcy. "All the students have clung to this and are very excited."
The new piece was a year in the making. Marcy first approached renowned local choral composer John Muehleisen last spring about creating a song filled with positivity and celebration in honor of the 10th anniversary of the Arts, Culture and Civic Engagement program. After many discussions with Marcy about the theme, Muehleisen discovered the poem Sing to Me! by Ella Wheeler Wilcox (1850-1919). At first read, Muehleisen and Marcy both knew it was a winner.
"Throughout the poem, there's this contrast between light and dark, with the light winning out in the end," said Muehleisen. "It's uplifting and speaks to all people who are able to face struggles with positivity. It's about the power of singing and what it can bring to people's hearts, souls, and minds — a perfect message to students and community."
Muehleisen's next step was to compose music that would communicate the poem's message. He wrote the music to reflect the poem's surging and rising quality, and the contrast of light and dark is reflected in the mood, keys, and chords of music.
From start to finish, the composition and performance of "Sing to Me!" was driven by teamwork. "I think John loves the collaborative process as much as the final product," said Marcy.
Marcy and Muehleisen also wanted to offer students an opportunity to learn more in-depth about this piece and its origin. At a rehearsal on May 11, the Edmonds CC choir and high school participants will discuss the creative process with Muehleisen and see how he eventually found the text and set it to music.
"Kirk wanted this piece to help students become better consumers of music and more passionate about composition," said Muehleisen.
"Sing to Me!" will be premiered by a choral group of more than 50 voices, comprising the Edmonds CC Symphonic Choir and local high school students.
Find out more
TOP