Edmonds CC Foundation golf tournament to support education
06/24/2013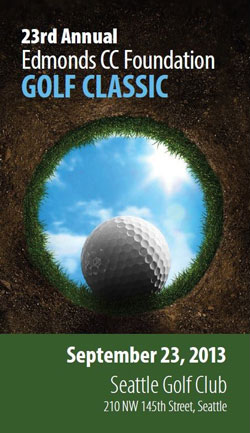 The Edmonds CC Foundation's 23rd annual Golf Classic will be held Sept. 23.
LYNNWOOD, Wash. — The Edmonds CC Foundation announces its 23rd annual Golf Classic, to be held Sept. 23 at the Seattle Golf Club — one of the Pacific Northwest's most prestigious golf courses. Last year, the tournament raised more than $58,000, providing vital support to the college.
Starting time is 1 p.m. at the Seattle Golf Club, 210 NW 145th St., Seattle. The $350 per person cost includes dinner. A VIP foursome for $1,900 includes a recognition package and additional drink tickets. Prices increase after July 8.
Register by Sept. 2 at www.edmonds.edu/foundation or call 425.640.1274.
A day of golfing can make a difference in the community and in the lives of the students and employees at Edmonds College. The tournament will help make higher education widely available in our community by providing students, especially those with the greatest barriers to overcome, with the support they need to succeed.
Students who have received Edmonds CC Foundation scholarships will be available at the event to talk about how their lives have changed with the opportunity to attend college.
The golfing will be followed by a barbecue dinner, with extras including trivia contests and food tastings from local restaurants. There will be $50 game packages, which include entry to putting contests; a knowledge bowl; longest drive, hole-in-one, closest to the pin, and straightest drive contests; and one mulligan. Up to three hole-in-one contests will provide opportunities to win a new car from Carter Subaru, Lynnwood Honda, and more.
Community members, alumni, parents, board members, business partners, and other friends of Edmonds College are invited to tee up for 18 holes of golf and camaraderie — for a great cause.
For more information, call 425.640.1982. To sponsor the event, call Kathy Coffey at 425.640.1512.
Find out more
TOP