Wednesday farmers market benefiting Edmonds CC Foundation
06/26/2013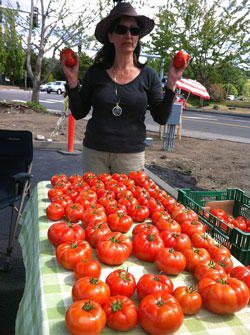 Fresh vegetables are available at the Salish Crossing Farmers Market, which benefits the Edmonds CC Foundation.
Salish Crossing, in support of the Edmonds College Foundation, today (June 26) resumes its new Wednesday evening farmers market in Edmonds
The Salish Crossing Farmers Market, which has an emphasis on fresh produce, is being held 3-7 p.m. Wednesdays through Oct. 2. The location is at Salish Crossing, 190 Sunset Ave., by the Edmonds ferry terminal.
All vendor fees are donated to the Edmonds CC Foundation, which generates financial support from individuals, corporations, foundations, and other organizations, annually distributing $200,000-$300,000 to fund student scholarships and emergency funds as well as grants for projects and programs.
Among the items vendors are offering are a wide variety of vegetables, potatoes, tomatoes, honey, soap, candles, berries, beef, lamb and eggs.
Bouquets of cut flowers are $5.
Find out more
TOP