$1.9 million grant to help lower energy and maintenance costs
06/27/2013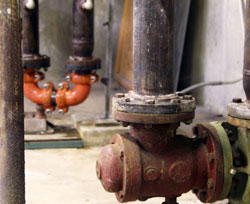 A new grant will enable Edmonds CC to install another Victaulic pipe fitting, like the one pictured in the background, to remove water-flow restrictions and save energy.
LYNNWOOD, Wash. — Edmonds College has received a $1.97 million grant from the Washington State Department of Commerce to lower energy and maintenance costs.
"This is about reducing our utility and maintenance costs, reducing our carbon footprint, and, in the process, ensuring a comfortable environment for teaching and learning," said Kevin McKay, Vice President for Finance and Operations.
New lighting, boilers, controls, and water saving systems are some of the energy and water saving measures that will be installed as part of an ongoing process at Edmonds CC.
Planned mechanical conservation measures include:
Central plant/campus-wide upgrading includes a campus cooling system upgrade that has booster pump removal, cooling tower sequencing, and chilled waterside economizers, which all combine to produce both energy savings and reduced maintenance costs. Approximate annual savings: $11,600. Heat system upgrades include installing new circulating pumps with dedicated variable frequency drives, removing excess booster pumps, and modifying system values to improve efficiency in water movement. Approximate savings: $18,500.
Upgrades to heating, venting, and air-conditioning (HVAC) controls and recommissioning for optimal performance and improved comfort in Mill Creek, Snoqualmie, and Lynnwood halls. Approximate annual savings: $26,000.
Air handling system upgrades in Lynnwood Hall include retrofitting existing supply/return fans with a better performing system to improve efficiency and comfort. The upgrade incorporates occupancy sensors and updates to control system. Approximate annual savings: $41,000.
Lighting upgrades to Seaview Hall to include occupancy sensors and ballast upgrades. Approximate annual savings: $1,100.
"As we all know, technology changes and new methods come out that would save twice as much energy and money if we adopted them," said Francisco Gomez, Edmonds CC Resource Conservation Manager. "That's basically the concept of upgrading and seeking new technologies that save energy. And this grant will help insulate us from utility cost increases as our campus grows."
Edmonds CC was one of seven community colleges to receive a total of $8 million through the energy-saving grants, which — in addition to improving facilities — are expected to created more than 120 jobs through construction spending.
The $1.97 million Department of Commerce grant is the third for Edmonds CC and the first not to require matching funds."These energy and water saving measures are expected to save each higher education institution as much as $150,000 annually," said Commerce Deputy director Dan McConnon. "That puts money directly back into higher education at a time when budgets are tight."
TOP