Art gallery features an interactive and collaborative exhibit Jan. 5-March 13
11/18/14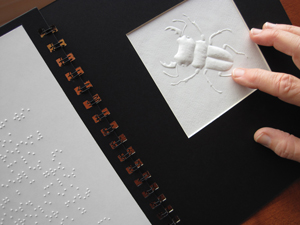 A blind user traces the outline of a stag beetle paper embossment.
Edmonds College's art gallery this winter will feature work from Jim Ballard in an exhibit titled "Please Touch." It opens Jan. 5 and continues through March 13 in the college's art gallery on the third floor of Lynnwood Hall, 20000 68th Ave. W.
A reception with the artist is 3:30-6:30 p.m., Fri., Jan. 23 in the college art gallery.
The exhibit is interactive and collaborative and explores the themes of air, earth, the human form, and sound through a variety of media.
Ballard and his colleagues, sculptors Richard Hestekind and David Varnau, along with various teams of people will create an experiential art installation that focuses on touch, sound, and motion.
Collaborative aspects of the exhibit took place during fall quarter as part of Ballard's artist-in-residence program. The program involved Edmonds CC students and instructors, blind or visually impaired local community members, and others who shared their ideas. They worked together to develop methods of executing the art and created tactile works.
This exhibit invites children and adults who want to discover more about the world to "Please Touch."
"I attempt to show through detailed paper embossments and other tactile illustrations aspects
of the world that might remain unknowable to a person who is blind or visually impaired," said Ballard. "I hope that through my work both children and adults can discover more about the world through touch."
The exhibit is sponsored by the college's library, Visual Arts department, and the Center for Student Engagement and Leadership as well as the Edmonds Art Festival Foundation Board.
The gallery is open 7:30 a.m.-9 p.m., Monday-Thursday; 7:30 a.m.-2 p.m., Friday; and 1-5 p.m., weekends. For more information about the exhibit, call 425.640.1744 or go to www.edmonds.edu/gallery. For directions to the college, see www.edmonds.edu/campus.
Read about the Please Touch art gallery exhibit in the HeraldNet.
TOP