Edmonds College's Kristyn Whisman takes first place in Strongman competition yet again
12/19/14
Third time is a charm? For Kristyn Whisman, it's more like the fourth time — fourth win that is! Whisman, Edmonds College's Dean of Corrections Education at the Monroe Correctional Complex, recently took first place for the fourth time, in the North American Strongman Championship competition in Reno, Nev. this past October.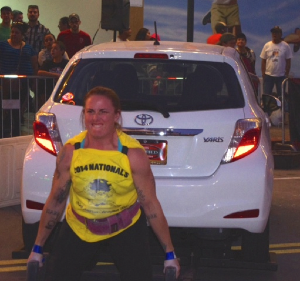 Kristyn Whisman deadlifts a Toyota Yaris

Whisman:
overhead pressed a 100 pound keg, a 115 pound axle, and an 80 pound circus dumbbell four times;
carried a 450 pound yoke 60 feet in 12.44 seconds;
carried a 150 pound keg 60 feet, 175 pound farmer's handles 40 feet, and 200 pound duck walk apparatus 20 feet in 40.12 seconds;
deadlifted a Toyota Yaris nine times;
pushed a 1,000 pound wheelbarrow 60 feet in 8.67 seconds; and
loaded a 100, 120, and 150 pound keg over a 52 inch bar in 24.03 seconds.
Whisman has found a way to incorporate these competitions into her life, while still being a mom to a 20 month old, a devoted wife, and a dean at the college.
Amidst the challenges of Whisman's job, she finds a way to overcome the stresses of the day in order to work out hard and contend in the Strongman competitions.
When asked what her favorite part of the Strongman competitions is, Whisman replied, "the camaraderie."
Whisman is gearing up for the 2015 Arnold Sports Festival, held in Columbus, Ohio on March 6-8. Aside from her Strongman goals, when asked about her career goal, Whisman replied, "I would like to have more systematic educational opportunities to inmates. As an administrator, there is a bigger opportunity to make that happen, which is one of the reasons I took an administrative position."
TOP