Edmonds CC Horticulture alumna wins Founders Cup at the Northwest Flower and Garden Show
03/06/15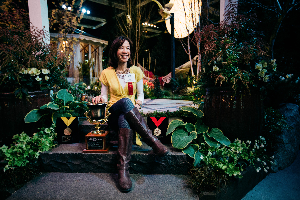 Edmonds College Horticulture alumna, Lisa Bauer was one of three designers to win the Founders Cup (best in show) and a gold medal for their display garden at the Northwest Flower and Garden (NWFG) show this year.
The display garden titled "Over the Moon", boasted large conifers and white birches framing a classic Scandinavian garden pavilion. The plant palette was white with accents of yellow, apricot, orange, and maroon with blue and dark green foliage. Plants and built structures were shaped like the moon.
Bauer's team consisted of Susie Thompson of Susie Landscape Designs and Katie Weber of Katie Weber Landscape Design; all three are members of the Association of Professional Landscape and Designers, Washington chapter.
"This was my second year in the show. I knew what we wanted to achieve this year," said Bauer.
Bauer's knowledge of plants expanded during her time at Edmonds CC, where she initially did not intend to obtain her degree. Bauer signed up for a drafting class and was immediately hooked. She then took a plant identification course.
"I fell in love with big trees and plants after those classes," commented Bauer. "Education opened up a new world for me."
Bauer earned her Associate of Technical Arts degree in Landscape Design and a certificate in Ornamental Horticulture from Edmonds CC.
Bauer has been owner of Chartreuse Landscape and Design since 2009. Previously, she owned and operated a textile company. Her visual and textile talents paired with her knowledge and passion for plants, allow her to do what she loves every day.
"Playing with color is such an important part of my world," said Bauer. "It is the antidote to the seasonal climate environment."
TOP