Edmonds CC students build an environmental educational facility in Florence, Italy
03/31/15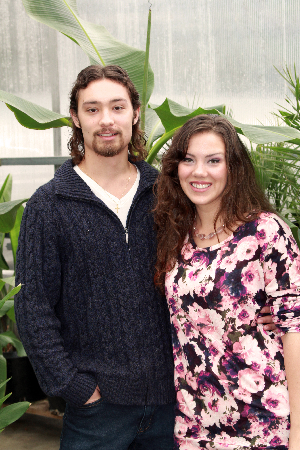 Antonio and Kiersten Baiamonte
Two graduates from Edmonds College, Antonio and Kiersten Baiamonte, are building a sustainable educational study abroad facility named, Bio-Monte, "Retreats, Tours, and Education in Tuscany, Italy."
The Baiamontes, a married couple, want to connect with students and educators to transform the land they have found in the Chianti region of Italy into educational organic vineyards, olive groves, vegetable gardens, fruit orchards, and medicinal herb gardens.
The profit gained from the products they produce will go towards scholarships to bring students to study at their facility.
They are currently running one-week tours and retreats for students and eco-minded tourists, but plan on expanding their program to provide a longer and more in-depth study abroad experience.
The Baiamontes signed up for the Edmonds CC study abroad program spring quarter 2011 with assistance from Jesse Aspree, Associate Director for Global Engagement and Contracted Services for the International Student Services department.
"Jesse helped make our study abroad possible through endless encouragement and a plethora of options on how to make study abroad affordable and attainable in our careers as students," said Kiersten Baiamonte.
While studying abroad, the Baiamontes were inspired by the landscape and the culture. When they returned to the U.S., they immediately wanted to go back to Florence.
They returned to Florence in May of 2013 and found three charming farmhouse style apartment buildings or mini villas and a grand main house, which was run by a knowledgeable Tuscan married couple, who loved their idea of turning the facility and its forty acres into a place for people to come and learn about the Tuscan way of life.
The Baiamontes knew they had found the perfect location to bring students and guide them in a life changing experience like the one they had been blessed with.
Part of the program will consist of specialized retreats and eco tours of the Tuscany region including wine, cooking, yoga, and wellness, which are all focused on giving their guests authentic, cultural interactions and experiences so that they leave Italy having learned the universal languages of food, wine, and culture.
They are both currently seniors at Western Washington University completing their studies in urban planning and sustainable development.
"Our end goal is to become a completely self sustaining facility and leave zero carbon impact/footprint," said Antonio Baiamonte.
Contact Antonio or Kiersten about study abroad opportunities at aebaiamonte@aol.com.
TOP