Scholarships awarded to Edmonds CC Community Read winners
04/01/15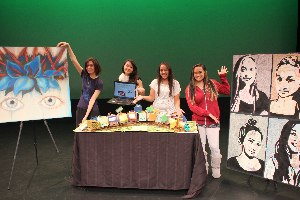 Edmonds CC Community Read scholarship winners, from left: Megan McDermott, Ilene Ong, Shabina Pal, and Denica McMillan. Kathryn Severson not pictured.
As part of the eighth annual Edmonds College Community Read, five Edmonds CC students — Megan McDermott, Denica McMillan, Shabina Pal, Ilene Ong, and Kathryn Severson — were awarded scholarships for their project submission inspired by the 2014/2015 Edmonds CC Community Read book, "You've Got It All Wrong."
Two $1,300 scholarships, which covers spring quarter tuition; one $600 scholarship, which covers partial spring quarter tuition; and two $350 scholarships were all funded by the Edmonds CC Foundation.

The students of Scriber Lake high school and authors of "You've Got It All Wrong", will be at the annual Community Read event on April 29, 9:30 a.m. and 12:30 p.m. at the Black Box Theatre on campus, 20000 68th Ave. W., to discuss their book. The Community Read scholarship recipients will be recognized at this event. The community is invited to both times.
McDermott's project is a painting titled, "Blue Lotus". The painting shows eyes which are the windows to the soul.
"The flower is like people — they are delicate and they bloom out of pain," said McDermott. "The proverb 'to hope to live like the lotus and bloom out of mud' is similar to the stories in the book, which ended with students wanting to start anew."
McDermott is obtaining her Associate of Arts degree and hopes to transfer to an art school. McDermott serves on the college's Powwow committee as a vendor coordinator.
McMillan created a 60 inch by 40 inch self-portrait painting titled, "Chameleon", which depicts different sides of herself: a women's right advocate; a school girl; a worker; and a mother with a daughter. Her inspiration was drawn from writing a reflective essay for her CPR health class on what set herself apart from others in the class.
"Different vignettes were centered around labels," said McMillan. "All of us are a chameleon in the different places that we live and work – we blend in with our surroundings."
McMillan works as a peer advocate for the Health and Wellness department at Edmonds CC. She is pursuing her Associate of Arts degree. After Edmonds CC, she plans to double major in women's studies and communication at the University of Washington.
Pal's project is a train titled, "The Wagons of Life," where each wagon has two or three quotes and the name of a student. Her inspiration for the project came from watching her cousins play with trains.
"Each student has their own journey and their own story," said Pal. "Much like a train, once you reach the end you have to decide if you want to start over or keep going."
Pal is earning her Associate of Science degree and will be applying to University of Washington, Seattle University, John Hopkins University and Stanford University. Ultimately, she wants to be an orthodontist for kids.
Ong created a website, "youhavegotitallwrong.blogspot.com/." The first page has one quote per day from the book, the second contains an introduction to the book, and the third contains a video titled, "You are more," which is dedicated to the authors of "You've Got It All Wrong."
"Each of their stories were open about their lives," said Ong. "I was able to relate to them and look at it from an open perspective. The website has a strong power to share with people; it is a good form of communication and offers a platform to share the people in the book."
Ong is studying international business and wants to be an entrepreneur. "I hope the website will be shared with as many people as possible and serve as encouragement for people to speak up more," said Ong.
Severson's project is three styrofoam heads: a blue head wrapped in chains to represent depression, a green head covered with barbed wire to represent jealousy, and a red head with vines to represent anger and cutting. The heads start with black at the base of the neck and fades up toward the top of the head into its color.
"At the end of each section in the book they are currently in a better place, which is why the colors fade up from black," said Severson. "No matter how bad it gets, it can always get better."
Severson is pursuing her Associate of Arts degree. She would like to study fashion design at Seattle Pacific University.
Previous Edmonds CC Community Read books are "The Immortal Life of Henrietta Lacks," by Rebecca Skloot; "Hotel on the Corner of Bitter and Sweet," by Jamie Ford; "The Big Burn," by Timothy Egan; "The Boy Who Harnessed the Wind," by William Kamkwamba and Bryan Mealer; "Banana: The Fate of the Fruit that Changed the World," by Dan Koeppel; "Middle Passage," by Charles Johnson; and "Zaatar Days, Henna Nights, Adventures, Dreams, and Destinations Across the Middle East," by Maliha Masood.
TOP