Edmonds CC student Alexandra Serdyuk to attend the 29th annual National Conference on Undergraduate Research 2015
04/10/15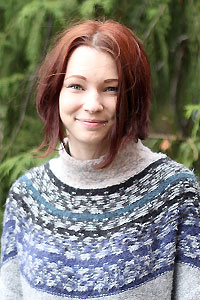 Alexandra Serdyuk

Alexandra Serdyuk, student at Edmonds College, had her research paper accepted at the 29th annual National Conference on Undergraduate Research (NCUR), to be held April 16-18 and hosted by Eastern Washington University.
Serdyuk's research paper, "Experimental and Theoretical Determination of Geometric Dependence of Townsend Coefficients in Paschen's Model of Dielectric Breakdown in Gases," focuses on voltage breakdown, more specifically lightning in a controlled chamber.
"Basically, it is a study of cold static plasma that occurs in a low pressure environment (vessel) with applied to electrodes inside the vessel high voltage," said Serdyuk.
She has been investigating this topic for one year and has discovered a plethora of conflicting research.
"The idea for my paper started in my General Physics 134 class where I had to measure the voltage breakdown from the coil," stated Serdyuk.
Tom Fleming, Physics instructor has helped Serdyuk a great.
"He helped me to realize what I was doing wrong and what I was doing right," said Serdyuk. "Tom made me like what I am doing."
Serdyuk is an international student from Russia who came here three years ago and did not know English. Her original area of study was business, but she made the switch to physics, fittingly so, as her parents are both engineers.
Serdyuk is currently in her last quarter at Edmonds CC, studying Mechanical Engineering while pursuing her Associate in Science-T Track 2 degree and is planning to transfer to University of Minnesota Twin Cities.
Ultimately, Serdyuk wants to construct planes.
Serdyuk was competing against students at two and four-year schools from all over the country and was selected for NCUR out of 3,700 submissions.
The Council on Undergraduate Research (CUR) and its affiliated colleges, universities, and individuals share a focus on providing undergraduate research opportunities for faculty and students at all institutions serving undergraduate students.
TOP